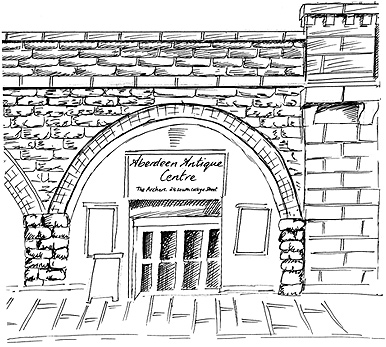 Aberdeen Antique Centre
The Arches, 24 South College Street
Aberdeen, AB11 6JX, Scotland
Telephone : 07801 441834
Web : www.AberdeenAntiqueCentre.com
Email : sales@AberdeenAntiqueCentre.com
The centre is currently operating ONLINE only. Please make all enquiries via phone or email.


Furniture, Bureaus
Sold Items,
Page : Previous123456789101112131415Next
Total : 329
Lovely Victorian Mahogany nursing chair or child's TV chair. Very comfortable and recovered in modern tartan wool fabric. circ 1870. £ 250
ID Code ac029a1203
Price £250 €279.25 $315.38
18 century Orkney Chair dated 1782 in original condition with very unusual sloping "hood" and drawer below the seat. Price as is £ 1200 or restored POA.
ID Code ac029a1202
Price £1200 €1340.40 $1513.80
Stunning Art Deco Sideboard in burr walnut in very good condition circ 1920 £ 875
ID Code ac029a1201
POA
Victorian Scottish FLame Mahogany Ogee Chest of drawers with barley twist columns and mother of pearl inserts in the handles. This is a beautiful piece of furniture which will provide fantastic storage capacity in any bedroom even in a modern house. Circ 1860. £ 850.
ID Code ac029a1200
Price £850 €949.45 $1072.28
Early 1900 Golden Oak filing cabinet and bookcase by Channon of London the top half is a bookcase with two glazed doors and the bottom has 27 drawers which can also be used as files This is a very unusual piece of highly desirable and useful furniture in the home or business office. Excellent quality and an appreciating asset. Circ 1900 £1250
ID Code ac029a1199
Price £1250 €1396.25 $1576.88
Early 1900 oak S type single pedestal desk. In good order. £ 495
ID Code ac029a1192
Price £495 €552.92 $624.44
Oak P shaped roll top desk. £550
ID Code ac029a1191
Price £550 €614.35 $693.83
Georgian tortoiseshell tea caddy with both lids. Circ 1830.
ID Code ac029a1187
Price £575 €642.28 $725.36
Lovely Mahogany Victorian 2 over 3 chest of drawers circ 1880 excellent colour and original handles £525
ID Code ac029a1186
Price £525 €586.43 $662.29
William Iv chest of drawers‏
ID Code ac029a1184
Price £875 €977.38 $1103.81
Oak Scottish Settle in good condition made in Aberdeen circ 1930. £975
ID Code ac029a1183
Price £750 €837.75 $946.13
Edwardian display cabinet ideal for porcelain figures or a silver collection In excellent condition with curved glass door and exquisite inlay in the two side cupboard doors Of neat proportions which would allow it to be accommodated in the smaller house circ 1900 -1920
ID Code ac029a1182
Price £750 €837.75 $946.13
Page :
Previous
1
2
3
4
5
6
7
8
9
10
11
12
13
14
15
Next
© Aberdeen Antique Centre, 2020