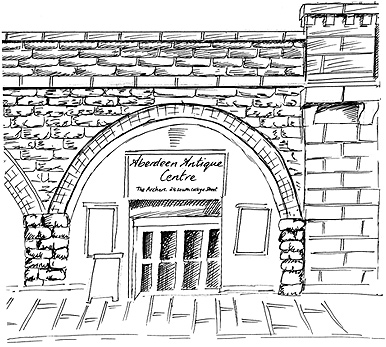 Aberdeen Antique Centre
The Arches, 24 South College Street
Aberdeen, AB11 6JX, Scotland
Telephone : 07801 441834
Web : www.AberdeenAntiqueCentre.com
Email : sales@AberdeenAntiqueCentre.com
The centre is currently operating ONLINE only. Please make all enquiries via phone or email.


Clocks And Timepieces
Sold Items,
Total : 41
An Victorian mahogany dome top chiming bracket clock, the arched silvered dial with slow/fast, chime/silent, subsidiaries above the chapter ring, the substantial brass double chain-fusee movement chiming , moulded rectangular base feet, 45cm high Constructed by John Hardy and Sons Aberdeen who worked at 17 Hoxter Row, Aberdeen circa 1830
ID Code ac029a879
Price £890 €969.74 $1138.76
Please call for further details
Rare quartz Limit of Switzerland gold plated pocket watch
ID Code ac029a864
Price £200 €217.92 $255.90
Very early Limit of Switzerland pocket watch
ID Code ac029a863
Price £160 €174.34 $204.72
Very rare Andrew McKenzie of Tarves pocket watch. Hallmarked Birmingham 1913
ID Code ac029a862
Price £230 €250.61 $294.29
Lovely pocket watch made by R Christie of Edinburgh. Hallmarked Birmingham 1900.
ID Code ac029a861
Price £190 €207.02 $243.11
Beautiful Silver fusee pocket watch made in London 1861. Rare, and fully working.
ID Code ac029a860
Price £350 €381.36 $447.83
Beautiful Vienna regulator Victorian wall clock with German movement and an enamel face. From c.1890. (KM)
ID Code ac029a633
Price £395 €430.39 $505.40
Gilbert Bannerman clock and watchmaker from Banff, 1764 - 1812 Oak 8 day longcase clock with a brass/silvered dial.
ID Code ac029a565
Price £2800 €3050.88 $3582.60
Oak cased granddaughter clock c.1930
ID Code ac029a519
Price £495 €539.35 $633.35
Another stunning example of an early 1900s wall clock, chiming on the half hour. Trader = SMA
ID Code ac029a518
Price £450 €490.32 $575.78
World War Two control room clock in a light oak casing
ID Code ac029a448
sold
c. 1925 Arts & Crafts 'Ting Tang' oak longcase clock. An 8 day weight driven clock with a 9 inch brass dial and rod gongs. Pendulum + face decorated with a hammered + rivetted design.
ID Code ac029a417
SOLD
Page :
Previous
1
2
3
4
Next
© Aberdeen Antique Centre, 2020