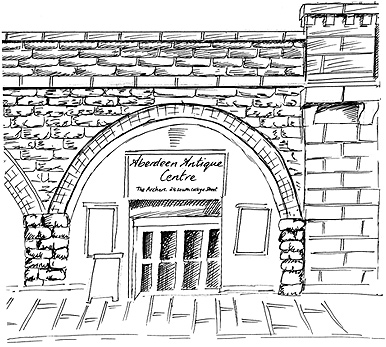 Aberdeen Antique Centre
The Arches, 24 South College Street
Aberdeen, AB11 6JX, Scotland
Telephone : 07801 441834
Web : www.AberdeenAntiqueCentre.com
Email : sales@AberdeenAntiqueCentre.com
The centre is currently operating ONLINE only. Please make all enquiries via phone or email.


Silver, Scottish Silver
Sold Items,
Total : 28
Scottish silver punch ladle by WM Marshall, with a beautiful fruit wood handle
ID Code ac029a791
Price £425 €470.18 $554.46
1930s silver topped Royal Brierley crystal powder jar. clearly hallmarked original label
ID Code ac029a729
Price £120 €132.76 $156.55
Early Victorian Silver King's Honey-Suckle Pattern Sauce Ladle. Made by WM. Eaton of London in 1839.
ID Code ac029a378
Length 7.25''
sold
Old Scottish George III Soup Ladle. Made in Edinburgh in 1802 by Matthew Craw of Canongate.
ID Code ac029a377
Length 13.5''
sold
Early Shell Bowl Soup Ladle of lovely quality made by Adam Graham of Glasgow, c 1760.
ID Code ac029a376
Length 14''
sold
Distinctive unusual Silver Quaich made in 1887 in Edinburgh with cust rococco lugs with stylised vine leaves.
ID Code ac029a375
Diameter 5.5''
SOLD
Silver Ladle made by Cameron of Dundee, circa 1830.
ID Code ac029a274
Length 6.5'', width 1.75''
SOLD
Edinburgh Silver Toddy Ladle 1815.
ID Code ac029a273
Length 7'', width 2.5''
SOLD
Early Victorian silver King's Honeysuckle pattern sauce ladle, by WM. Eaton of London 1839.
ID Code ac029a256
Dimensions 7'' by 3''
SOLD
Silver picture frame - floral Piercework Birmingham 1974
ID Code ac029a255
Dimensions 7'' by 5''.
SOLD
Silver Address Book with Cupids on it
ID Code ac029a124
4,5'' x 3,5''
SOLD
Silver (Birmingham 1900) Card Case
ID Code ac029a123
5'' x 4''
SOLD
Page :
Previous
1
2
3
Next
© Aberdeen Antique Centre, 2020