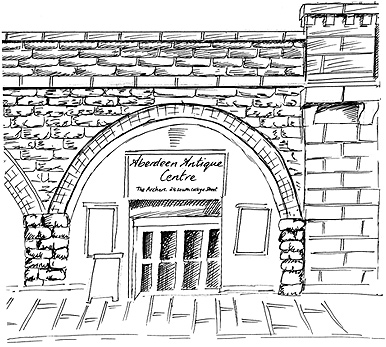 Aberdeen Antique Centre
The Arches, 24 South College Street
Aberdeen, AB11 6JX, Scotland
Telephone : 07801 441834
Web : www.AberdeenAntiqueCentre.com
Email : sales@AberdeenAntiqueCentre.com
The centre is currently operating ONLINE only. Please make all enquiries via phone or email.


Furniture, Bookcases
Sold Items,
Page : Previous456789101112131415161718Next
Total : 329
Beautiful late Victorian mahogony breakfast table MG
ID Code ac029a459
sold
Beautiful Edwardian dresser in light Mahogony
ID Code ac029a458
Price £245 €269.72 $297.31
Early 19th Century Oak Settle SMA
ID Code ac029a457
sold
Beautiful Edwardian walnut ladies desk with glazed bookcase
ID Code ac029a456
sold
Ex Ship's Captains desk in oak
ID Code ac029a455
sold
Lovely Edwardian nursing chair
ID Code ac029a447
sold
Vintage South African Partridge Wood Kneehole Desk. Ideal as a 'partners' desk. The desk is substantial and well crafted. The desk comes in three sections for easy manouverability ie, the top lifts off and releases the two seperate drawer sections. Unfortunately the bottom left-hand drawer runner is slightly damaged and would need replacing. The last photo with the desk dressed with items shows how handsome this piece would look in the study. Please note items displayed on desk are also for sale, please contact Aberdeen Antique Center for details.
ID Code ac029a433
Depth 91 cm. Width 153 cm. Height 76 cm.
sold
Victorian Mahogany extending dining room suite and six chairs, would seat eight. The overall condition of the table is excellent, complete with winder. The table legs are beautifully carved and substantial, the castors have been added at a later date for easy manouverability. The six dining chairs are ornately carved and intricately inlayed with various fine woods and upholstered with a rich red silk brocade, again all six chairs are in excellent condition. This stunning suite would make a grand edition to anyones' dining room.
ID Code ac029a430
Width of table un-extended 59 ins x 48 ins. Width of table extended
sold
Victorian Mahogony framed sofa with green upholstery
ID Code ac029a426
Width 125cm Depth 70cm Height to seat 38cm Height to top of back 85
sold
Mahogany mirrored Hallstand, circa 1900.
ID Code ac029a418
width 24'', height 72.5'', depth 15''
sold
Single Art Nouveau Oak Wardrobe.
ID Code ac029a416
Width 33.75'', height 70.5'', depth 15.75''
sold
Oak Gate Leg Table with fluted legs and pad feet, circa 1930's OSD
ID Code ac029a414
Width 21'', depth 42'', height 29.5''
sold
Page :
Previous
4
5
6
7
8
9
10
11
12
13
14
15
16
17
18
Next
© Aberdeen Antique Centre, 2020