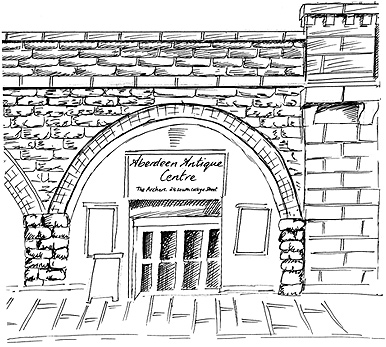 Aberdeen Antique Centre
The Arches, 24 South College Street
Aberdeen, AB11 6JX, Scotland
Telephone : 07801 441834
Web : www.AberdeenAntiqueCentre.com
Email : sales@AberdeenAntiqueCentre.com
The centre is currently operating ONLINE only. Please make all enquiries via phone or email.


View All
For Sale Items,
Page : Previous123456789101112Next
Total : 137
Aston and Mander of London parallel rule from the early 1940s. SMA
ID Code ac029a609
Price £85 €93.11 $110.09
A wonderful view of the braes of balquindaer SMA
ID Code ac029a578
Price £975 €1068.02 $1262.82
A lovely beach scene by John Nisbett SMA
ID Code ac029a577
Price £950 €1040.63 $1230.44
Harry Sutton Palmer (1854 - 1933) was a well-known watercolourist who specialised in rural idylls, river scenes and extensive landscapes. He currently has works exhibited in galleries around the country, including the Victoria and Albert Museum in London. Though he lived in London, Sutton Palmer travelled widely throughout Britain. This beautiful scene is of Rydal Hall in Cumbria, date unknown. SMA
ID Code ac029a576
Price £1900 €2081.26 $2460.88
Oil Painting by James lawton Wingate 'Autumn Harvest' He worked as a commercial clerk, taking drawing lessons in the early morning. Initially he was influenced by Ruskin and the Pre-Raphaelites, and first exhibited in 1864 at the Glasgow Fine Art Institute. The appreciation he received led him to abandon his job and tour Italy in 1867-68 where he created 150 watercolour drawings. Returning to Edinbrough, Scotland, he lived at Hamilton, and developed a keen skill in painting landscapes and woodland scenes while studying at the Royal Scottish Academy (RSA). While in Edinbrough he met Hugh Cameron at Comrie, in Perthshire, in the autumn of 1873. Cameron was a genial and helpful critic. Wingate defended his work as being true to fact and Cameron's reply "I feel the work to be wrong and art is not an affair of argument, it is an affair of feeling" is said to have been a significant impact on Wingate. In 1874 he moved to Crieff and later to Muthill, painting rustic genre scenes and later increasingly impressionistic landscapes which made his reputation. After 1880 he exhibited regularly at the RSA, becoming its President in 1919, also the year in which he was knighted. Later he moved to Colinton and afterwards to Slateford, both in the vicinity of Edinburgh. He became President of the RSA in 1919, resigning shortly before his death in Edinburgh, aged 77, in 1924. SMA
ID Code ac029a575
Image dimensions approx 34.5cm x 24cm Frame dimensions approx 54cm x
Price £1950.00 €2136.03 $2525.64
Charles Leslie Watercolour. Charles Robert Leslie (1794-1859), English genre painter, was born in London on 19 October 1794. His parents were American, and when he was five years of age he returned with them to their native country. They settled in Philadelphia, where their son was educated and afterwards apprenticed to a bookseller. He was, however, mainly interested in painting and the drama, and when George Frederick Cooke visited the city he executed a portrait of the actor from recollection of him on the stage, which was considered a work of such promise that a fund was raised to enable the young artist to study in Europe. He left for London in 1811, bearing introductions which procured for him the friendship of West, Beechey, Allston, Coleridge and Washington Irving, and was admitted as a student of the Royal Academy, where he carried off two silver medals. At first, influenced by West and Fuseli, he essayed high art, and his earliest important subject depicted Saul and the Witch of Endor but he soon discovered his true aptitude and became a painter of cabinet-pictures, dealing, not like those of David Wilkie, with the contemporary life that surrounded him, but with scenes from the great masters of fiction, from Shakespeare and Cervantes, Addison and Molière, Swift, Sterne, Fielding and Smollett. Of individual paintings we may specify Sir Roger de Coverley going to Church (1819) May-day in the Time of Queen Elizabeth (1821) Sancho Panza and the Duchess (1824) Uncle Toby and the Widow Wadman (1831) La Malade Imaginaire, act iii. sc. 6 (1843) and the Duke's Chaplain Enraged leaving the Table, from Don Quixote (1849). Many of his more important subjects exist in varying replicas. He possessed a sympathetic imagination, which enabled him to enter freely into the spirit of the author whom he illustrated, a delicate perception for female beauty, an unfailing eye for character and its outward manifestation in face and figure, and a genial and sunny sense of humour, guided by an instinctive refinement which prevented it from overstepping the bounds of good taste. In 1821 Leslie was elected A.R.A., and five years later full academician. In 1833 he left for America to become teacher of drawing in the military academy at West Point, but the post proved an irksome one, and in some six months he returned to England. He died on the 5th of May 1859. In addition to his skill as an artist, Leslie was a ready and pleasant writer. His Life of his friend Constable, the landscape painter, appeared in 1843, and his Handbook for Young Painters, a volume embodying the substance of his lectures as professor of painting to the Royal Academy, in 1855. In 1860, Tom Taylor edited his Autobiography and Letters, which contain interesting reminiscences of his distinguished friends and contemporaries.[1] Taylor also finished Leslie's Life and Times of Sir Joshua Reynolds, which was published in 1865. SMA
ID Code ac029a574
Image dimensions approx 51.5 x 24 cm Frame dimensions approx 69 cm x
Price £550.00 €602.47 $712.36
Offers
Charles Leslie 1835 - 1890. Scottish Sea Loch & mountain Scene. Charles Leslie british born artist. He studied at The Royal Acadamy in London and exhibited there. His oil paintings are offered for sale at sums of thousands of pounds.
ID Code ac029a530
Dimensions are as follows for image 20 ins x 10 ins. Dimension for fr
Price £575 €629.86 $744.74
Price On Application
Thomas Swift Hutton Waterclour 1865 - 1935 'Village Scene' (Title unknown). Hutton first exhibited when he was 27 at Glasgow Institute of Fine Art. Then later at the Berwick Club and then both at The Royal Acadamy and The Scottish Acadamy. His works are now represented at the Shipley Art Gallery South Shields Museum. SMA
ID Code ac029a529
Dimensions of art work are as follows 6 ins x 9 ins. Dimensions of fr
Price £495 €542.22 $641.12
Price On Application
Victorian Windsor Elbow Chair with fretted splat on the back and saddle seat. SMA
ID Code ac029a329
Price £350 €383.39 $453.32
Watercolor "Harvesting" by John Aiken, local artist from Aberdeen. MOR
ID Code ac029a317
Picture size 10.5'' x 14.25'' Overall size 19.75'' x 22.5''
Price £750 €821.55 $971.40
Watercolor by Joseph Paterson. "Animals grazing near St. Machar Cathedral". Probably late 19th century/early 20th century. MOR
ID Code ac029a316
Picture size 7.5'' x 10'' Overall size 13.75'' x 16.25''
Price £375 €410.78 $485.70
Watercolour of "Loch of Strathbeg" by local artist Edward Malcolm of Peterhead.
ID Code ac029a289
picture size 35x46cm overall size 60x70cm
Price £120 €131.45 $155.42
Page :
Previous
1
2
3
4
5
6
7
8
9
10
11
12
Next
© Aberdeen Antique Centre, 2020