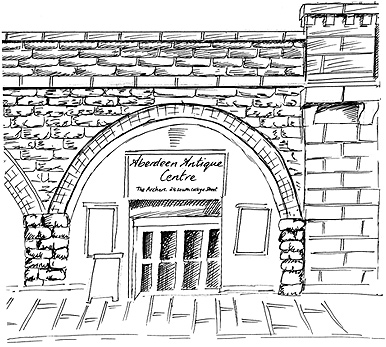 Aberdeen Antique Centre
The Arches, 24 South College Street
Aberdeen, AB11 6JX, Scotland
Telephone : 07801 441834
Web : www.AberdeenAntiqueCentre.com
Email : sales@AberdeenAntiqueCentre.com
The centre is currently operating ONLINE only. Please make all enquiries via phone or email.


Furniture, Bureaus
Sold Items,
Page : Previous5678910111213141516171819Next
Total : 329
Mahogany Sutherland Table with box wood stringing and a cross banded inlay, circa 1900. KDE
ID Code ac029a413
Width 8'', depth 24'', height 26'', extended 30.5''
sold
circa 1830 Mahogany Card Table on quadraped base. KDE
ID Code ac029a412
Width 36'', height 29'', depth 18''
sold
Beautiful Victorian Mahogany Chiffonier with one long drawer above two cupboard doors, carved top.
ID Code ac029a411
width 44'', height 55'', depth 18.5''
sold
Pair of Victorian Nursing Chairs with carved back and turned legs. OSD
ID Code ac029a410
Width 19'', height 30.5'', depth 18''
sold
Victorian hanging nest of tables with barley twist legs, c. 1840. OSD
ID Code ac029a409
sold
Flame Mahogany Scottish Ogee Chest of Drawers, c. 1880.
ID Code ac029a408
Width 48'', height 46'', depth 22''
SOLD
Victorian Dreylon covered occasional chair based on cabriole legs with ball and claw feet.
ID Code ac029a407
Width 22.5'', height 31'', depth 24''
sold
Beautifuly carved Victorian Mahogany Walnut Bed Heads.
ID Code ac029a406
SOLD
Victorian Mahogany 2 over 3 Chest of Drawers.
ID Code ac029a405
Width 52'', height 44'', depth 25''
SOLD
Small Georgian Mahogany Drop leaf dining table on hoof style feet with original castors. Lovely original colour having been professionally refinished in our workshops. SMA
ID Code ac029a404
SOLD
Dark Oak Marble Topped Hallstand / Table, with nicely carved front and centre drawer. SMA
ID Code ac029a402
Width 46'', height 36'', depth 17''
sold
Lovely Dark Oak Hallstand.
ID Code ac029a401
width 29.5'', depth 12'', height 74''
sold
Page :
Previous
5
6
7
8
9
10
11
12
13
14
15
16
17
18
19
Next
© Aberdeen Antique Centre, 2020