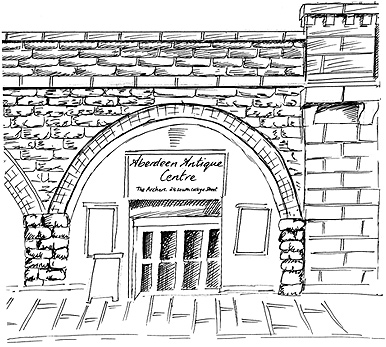 Aberdeen Antique Centre
The Arches, 24 South College Street
Aberdeen, AB11 6JX, Scotland
Telephone : 07801 441834
Web : www.AberdeenAntiqueCentre.com
Email : sales@AberdeenAntiqueCentre.com
The centre is currently operating ONLINE only. Please make all enquiries via phone or email.


Furniture, Bureaus
Sold Items,
Page : Previous67891011121314151617181920Next
Total : 329
Charming Oak Desk, c. 1920's with extending left end and pull door.
ID Code ac029a397
Width 35.5'', 46.5'' when extended, depth 20.5'', height 28''
SOLD
Edwardian Swivel Captains Chair. Leather seat in very good condition.
ID Code ac029a396
width 25'', height 32'', seat height 18'', depth 23''
SOLD
Retro Ercol Table.
ID Code ac029a392
Width 5', Depth 6'
sold
Ercol Rocking Chair.
ID Code ac029a391
SOLD
Lovely 3 Piece Ercol Suite. 3 seater sofa and 2 armchairs. Circa 1970's SMA
ID Code ac029a390
The Sofa is 68'' long, 27'' deep, 34'' tall.
sold
Oak circa 1860's glass fronted Bookcase.
ID Code ac029a388
Width 42'', Height 71'', Depth 15''
sold
Vintage Green-Damask upholstered Sofa.
ID Code ac029a386
Width 65'', Depth 40'', Height 38''
SOLD
William IV Music Cabinet in burr walnut, inlaid. Circa 1835.
ID Code ac029a384
Width 23'', Height 39'', Depth 16.5''
750
Late 17th Century Oak English Coffer.
ID Code ac029a383
Width 51'', depth 20'', height 24''
sold
Victorian Mahogany Button Back Nursing Chair. Circa 1895. GC
ID Code ac029a382
Width 24'', Height 36'', Depth 24''
Price £375 €418.88 $473.06
Oak Twin Pedestal "Dickens" Desk, "Welington chest", locking on top drawers. Circa 1900. SMA
ID Code ac029a381
Width 48'', Height 42'', Depth 25''
sold
Victorian Chaise Longue, c. 1890. Recovered in quality fabric. SMA
ID Code ac029a380
Width 77'', depth 26'', height 30''
sold
Page :
Previous
6
7
8
9
10
11
12
13
14
15
16
17
18
19
20
Next
© Aberdeen Antique Centre, 2020