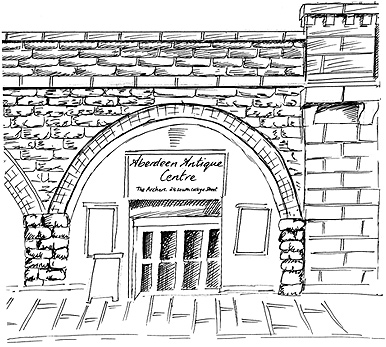 Aberdeen Antique Centre
The Arches, 24 South College Street
Aberdeen, AB11 6JX, Scotland
Telephone : 07801 441834
Web : www.AberdeenAntiqueCentre.com
Email : sales@AberdeenAntiqueCentre.com
The centre is currently operating ONLINE only. Please make all enquiries via phone or email.


Furniture, Bureaus
Sold Items,
Page : Previous789101112131415161718192021Next
Total : 329
Oak Settle, circa 1700.
ID Code ac029a379
Price £980 €1094.66 $1236.27
Lovely Victorian Ladies writing Desk. SMA
ID Code ac029a374
width 21'', depth 16.5'', height 34''
Price £475 €530.58 $599.21
Pair of Oak Bedside Cabinets on cabriole legs.
ID Code ac029a373
width 17.5'', depth 12.5'', height 27.5''
SOLD
Edwardian Mahogany Chest of Drawers.
ID Code ac029a372
width 32'', depth 19'', height 31''
550
Victorian Footstool covered with pink fabric, on castors.
ID Code ac029a371
width 30.5'', 20'' deep, 15'' tall
SOLD
Rustique Victorian Table.
ID Code ac029a362
width 47'', depth 19'', height 33''
sold
Oval Dining Table.
ID Code ac029a360
53'' x 41''
Price £470 €524.99 $592.91
4 Victorian Mahogany Balloon Back Dining Chairs
ID Code ac029a359
sold
Mahogany Dressing Table.
ID Code ac029a358
width 41.5'', depth 18'', height 73''
sold
Arts & Crafts Mahogany Inlaid Double Wardrobe. It has two small drawers on each side and a large one at the bottom.
ID Code ac029a355
width 47'', height 75.5'', depth 18''
SOLD
Edwardian Mahogany Sideboard. Contain 3 drawers above 3 cupboards. On cabriole legs and claw-and-ball feet.
ID Code ac029a353
width 72'', height 50'', depth 24''
SOLD
Beautiful Rattan Bergere Sofa + 2 Chairs, newly upholstered with Laura Ashley fabric. It has claw-and-ball feet and armrests. Includes silk and linen cushions.
ID Code ac029a352
SOLD
Page :
Previous
7
8
9
10
11
12
13
14
15
16
17
18
19
20
21
Next
© Aberdeen Antique Centre, 2020