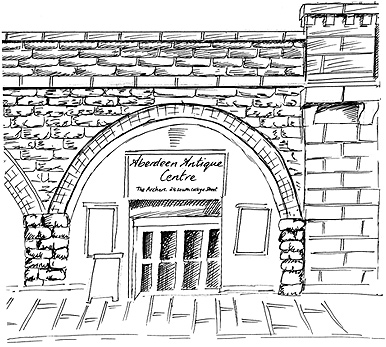 Aberdeen Antique Centre
The Arches, 24 South College Street
Aberdeen, AB11 6JX, Scotland
Telephone : 07801 441834
Web : www.AberdeenAntiqueCentre.com
Email : sales@AberdeenAntiqueCentre.com
The centre is currently operating ONLINE only. Please make all enquiries via phone or email.


Furniture, Bookcases
Sold Items,
Page : Previous8910111213141516171819202122Next
Total : 329
Mahogany Inlaid Edwardian Wardrobe. It has mirror door and two drawers at the bottom.
ID Code ac029a351
width 54'', height 82'', depth 20''
sold
Late Victorian Mahogany Pot Cupboard with Bird's-eye Mample panels.
ID Code ac029a350
width 15.5'', depth 14.5'', height 27''
sold
Set of 4 Arts & Crafts Chairs made by Wylie & Lockhead, circa 1900
ID Code ac029a349
sold
Pair of Arm Chairs on cabriole legs and claw-and-ball feet, upholstered back and seat.
ID Code ac029a348
SOLD
Oriental Coffee Table with scalloped edges and ball feet.
ID Code ac029a347
Diameter 30'', height 17.5''
SOLD
Pair of Gorgeous Walnut Chairs with tapestry upholstery, c. 1840.
ID Code ac029a346
SOLD
Regency style Drum Table. Satin wood top and ebonised pillars.
ID Code ac029a339
Diameter 31'', height 21''
sold
Walnut Late Victorian Credenza in excellent condition. Contain mirror front and marble top.
ID Code ac029a338
width 60'', height 39'', depth 20.5''
SOLD
Pot cupboard veneered with walnut with brass escutcheons and cabiole legs with shield knee. Circa 1920-30.
ID Code ac029a333
Width 15.5'', depth 16.5'', height 33''
Price £50 €56.53 $62.02
Victorian Mahogany Pot Cupboard veneered with figured walnut, circa 1870-80.
ID Code ac029a332
width 14'', depth 14'', height 31''
SOLD
Walnut Magazine Glass Fronted Cupboard with brass escutcheons.
ID Code ac029a331
width 22'', height 25'', depth 10''
SOLD
Pair of Beautiful Walnut Chairs on turned legs.
ID Code ac029a330
width 16'', depth 16'', height 33.5'', seat height 18''
SOLD
Page :
Previous
8
9
10
11
12
13
14
15
16
17
18
19
20
21
22
Next
© Aberdeen Antique Centre, 2020