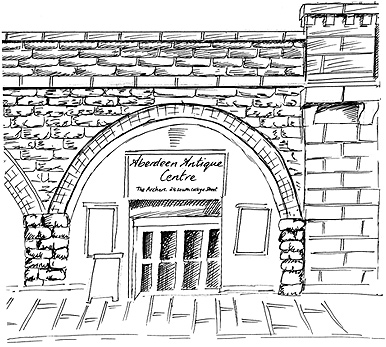 Aberdeen Antique Centre
The Arches, 24 South College Street
Aberdeen, AB11 6JX, Scotland
Telephone : 07801 441834
Web : www.AberdeenAntiqueCentre.com
Email : sales@AberdeenAntiqueCentre.com
The centre is currently operating ONLINE only. Please make all enquiries via phone or email.


Furniture, Bureaus
Sold Items,
Page : Previous123456789101112131415Next
Total : 329
Victorian ladies writing desk with exquisite carvings to the edges and drawer handles. A lovely piece of furniture to grace any room period or modern decor. A sound investment in something that can be used everyday with your laptop or tablet. Circ 1890.
ID Code ac029a1181
Price £950 €1035.12 $1215.53
William Iv bureau in walnut In very good condition and of small proportions. C 1830.
ID Code ac029a1180
Price £875 €953.40 $1119.56
Unusual gothic style writing desk in oak with barley twist legs and heavily carved top and face mask. Leather skiver in very good condition. There is a similar style bookcase to use alongside. Desk £950
ID Code ac029a1179
Price £950 €1035.12 $1215.53
Unusual Gothic style bookcase in oak with beautiful carving in very good condition There is a similar style desk which would make an excellent match for an office or executive study. Circ 1880 £ 1200
ID Code ac029a1178
Price £1200 €1307.52 $1535.40
This is an early 19th century mahogany display cabinet of slim proportions and finest quality construction The original interior lining is still in excellent condition Would make a lovely silver cabinet.
ID Code ac029a1177
Price £975 €1062.36 $1247.51
Church Pews 4 meters long in pitch pine Church Pews 4 meters long in pitch pine £95 each. Twenty available
ID Code ac029a1176
Price £95 €103.51 $121.55
12 seater oak dining room table and 10 matching chairs
ID Code ac029a1173
POA
Art Deco bedroom suite ladies and gents wardrobe dressing table in birds eye maple lovely condition
ID Code ac029a1172
Price £1225 €1334.76 $1567.39
Fine Quality Arts And Crafts Dresser,a superb example with copper and brass fittings which have the name of Samuel Hall & Son( Hall, Samuel, & Sons, Vanguard Works, Hay Mills, Birmingham, also Wrottesley Street, Birmingham (c1901) oilers and headlamps. They may have used the 'SHS™' logo as well as Samuel Heath manufacturers of brass and copper
ID Code ac029a1170
Price £950 €1035.12 $1215.53
Bow front bookcase.
ID Code ac029a1156
Price £375 €408.60 $479.81
Pair of Early 19thc Chairs
ID Code ac029a1151
Price £575 €626.52 $735.71
Victorian pitch pine pedestal writing desk in the style of a teacher's desk with writing slope on top . Two large drawers over six smaller ones below ,these still have their original glass handles. In good order and servicable condition
ID Code ac029a1143
35" WIDE X 20" DEEP X 29" HIGH ( MAIN DESK HEIGHT )
Price £395 €430.39 $505.40
Page :
Previous
1
2
3
4
5
6
7
8
9
10
11
12
13
14
15
Next
© Aberdeen Antique Centre, 2020