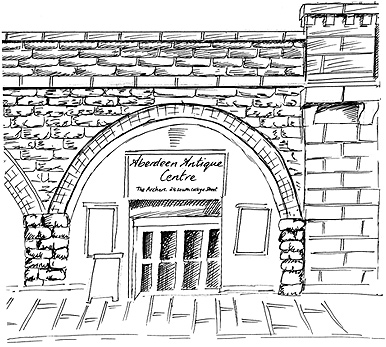 Aberdeen Antique Centre
The Arches, 24 South College Street
Aberdeen, AB11 6JX, Scotland
Telephone : 07801 441834
Web : www.AberdeenAntiqueCentre.com
Email : sales@AberdeenAntiqueCentre.com
The centre is currently operating ONLINE only. Please make all enquiries via phone or email.


Jewellery, Necklaces
Sold Items,
Total : 73
18ct Gold Diamond Pearl Ring
ID Code ac029a337
SOLD
Antique 9ct Padlock Bracelet.
ID Code ac029a336
Width 7''
SOLD
Very rare Art Deco Rubellite Ring.
ID Code ac029a335
sold
14ct Gold Diamond Lizard.
ID Code ac029a334
Width 2.5''
SOLD
18 Gold Get Set Pendant containing 9 multicoloured gem stones.
ID Code ac029a296
SOLD
9ct Gold Heart shaped Pendant with Ruby in the centre and 4 Diamonds surrounding it.
ID Code ac029a295
SOLD
Silver Coin Necklace. It is 41cm long and contains 19 silver pre 1940's coins.
ID Code ac029a293
Length 41cm
180
Pair of Silver Ingots 1oz & 1/2oz. £55 for the pair or £30 for 1oz ingot and £25 for 1/2oz.
ID Code ac029a292
Price £55 €60.85 $71.75
Graded Bone Bead Necklace with central carved rose bead.
ID Code ac029a291
Length 90cm
SOLD
Vintage Amber Beaded Necklace, circa 1970. Sterling silver clasp.
ID Code ac029a290
Length 60cm
SOLD
9ct Gold Bracelet containing 8 Beautiful Garnets.
ID Code ac029a271
7'' long
sold
18ct White Gold, Black and White Diamonds Earrings.
ID Code ac029a267
0.5'' long
sold
Page :
Previous
1
2
3
4
5
6
7
Next
© Aberdeen Antique Centre, 2020