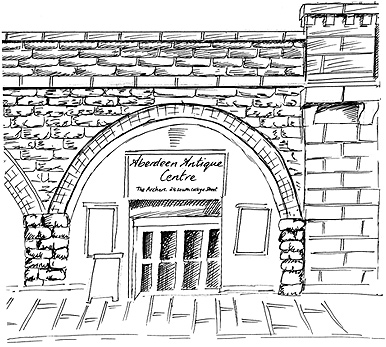 Aberdeen Antique Centre
The Arches, 24 South College Street
Aberdeen, AB11 6JX, Scotland
Telephone : 07801 441834
Web : www.AberdeenAntiqueCentre.com
Email : sales@AberdeenAntiqueCentre.com
The centre is currently operating ONLINE only. Please make all enquiries via phone or email.


Furniture, Chairs
Sold Items,
Page : Previous123456789101112131415Next
Total : 329
19th Centuary Mahogany Davenport
ID Code ac029a1058
Price £495 €566.43 $659.98
Scottish Victorian Hallstand 1870 with original drip trays
ID Code ac029a1056
Price £950 €1087.09 $1266.64
Lovely French style oak armoire with glass doors, glass shelves, and storage drawers beneath. The perfect item to store linen or fabrics.
ID Code ac029a1053
Height 77 inches Width 42 inches Depth 14.5 inches
Price £725 €829.62 $966.64
Fine quality beautifully inlaid rosewood cylinder rolltop bureau. Inside, there is a sliding writing surface with leather top and various small drawers and compartments.
ID Code ac029a1052
Height 120cm Width 99cm Depth 56.5cm
Price £575 €657.97 $766.65
This office desk features numerous drawers, pen slides and file drawers to top, and traditional card holding handles. This is complemented by a tambour front. This desk sits upon a pair of pedestals, which have carved wooden handles. This is in lovely condition for its age. It is panelled to the sides and back, so can stand alone in an office environment. It breaks down into individual pieces for ease of transportation and reassembly. This item dates from circa 1900, and thus will show some signs of wear and tear, this piece is in truly excellent condition for its age.
ID Code ac029a1051
H 51" W 55" D 36"
Price £2300 €2631.89 $3066.59
Stylish Arts & Crafts Mahogany Dresser with Glazed Top Cupboard. Original Glass.
ID Code ac029a1042
Price £775 €886.83 $1033.31
Lovely victorian coffer in carved oak
ID Code ac029a1030
length 107cm , hieght 60cm , depth 48cm
Price £495 €566.43 $659.98
Beautiful golden oak gateleg table from c. with lovely barley twist legs.
ID Code ac029a1028
POA
Ercol painted kitchen dresser
ID Code ac029a1026
Price £575 €657.97 $766.65
Stunning Bed Or side table cabinet
ID Code ac029a1024
Price £60 €68.66 $80.00
Antique Windsor Crinoline Arm Chair
ID Code ac029a1018
Price £450 €514.94 $599.99
Oriental whatnot
ID Code ac029a1016
Price £45 €51.49 $60.00
Page :
Previous
1
2
3
4
5
6
7
8
9
10
11
12
13
14
15
Next
© Aberdeen Antique Centre, 2018