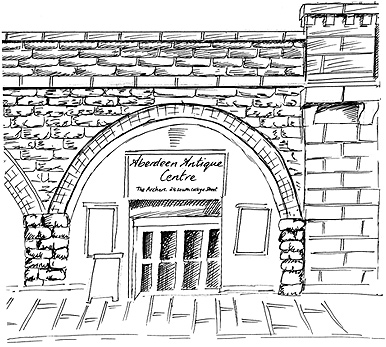 Aberdeen Antique Centre
The Arches, 24 South College Street
Aberdeen, AB11 6JX, Scotland
Telephone : 07801 441834
Web : www.AberdeenAntiqueCentre.com
Email : sales@AberdeenAntiqueCentre.com
The centre is currently operating ONLINE only. Please make all enquiries via phone or email.


View All
For Sale Items,
Page : Previous123456789101112Next
Total : 137
1949 Bulova His Excellency 'NN' Mint Condition.
ID Code ac029a1050
Price £360 €409.57 $470.56
Beautiful Victorian Ogee Chest of Drawers. 4 Large Drawers, each with Centre Lock.
ID Code ac029a1047
Price £725 €824.83 $947.65
1950s Stunning Lady Elgin in original black bakelite case.
ID Code ac029a1043
Price £240 €273.05 $313.70
Watercolour By Smith 1897 Cottages
ID Code ac029a1041
POA
Low Tide At Arran Watercolour P. MacGregor Wilson
ID Code ac029a1039
Price £385 €438.01 $503.23
Isle Of Arran Watercolour Mountain landscape, Tom Paterson,signed.
ID Code ac029a1038
Price £175 €199.10 $228.74
Watercolour A Fine Day At Arran P. Macgregor Wilson.
ID Code ac029a1037
Price £385 €438.01 $503.23
Peter MacGregor Wilson Watercolour,Seaside path.
ID Code ac029a1036
Price £385 €438.01 $503.23
E,H,Morton Watercolour Little Bridge unsure of date or title please call for advice.
ID Code ac029a1035
POA
Watercolour The Lake,i am unsure of the proper title,or the date please call for advice.
ID Code ac029a1034
POA
View of Edinburgh From Calton Hill by Fred Stolt
ID Code ac029a1033
POA
Aqua tint Engraving Of Loch Katrine
ID Code ac029a1032
Price £95 €108.08 $124.17
Page :
Previous
1
2
3
4
5
6
7
8
9
10
11
12
Next
© Aberdeen Antique Centre, 2018