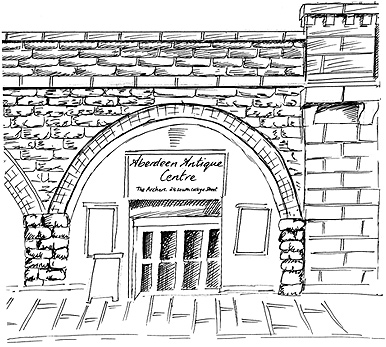 Aberdeen Antique Centre
The Arches, 24 South College Street
Aberdeen, AB11 6JX, Scotland
Telephone : 07801 441834
Web : www.AberdeenAntiqueCentre.com
Email : sales@AberdeenAntiqueCentre.com
The centre is currently operating ONLINE only. Please make all enquiries via phone or email.


View All
For Sale Items,
Page : Previous123456789101112Next
Total : 137
Water colour 1982 house's
ID Code ac029a1031
POA
Chinese Charger 1900's
ID Code ac029a1029
Price £55 €63.48 $71.75
Victorian Mahogany Bedroom Chair
ID Code ac029a1027
Price £125 €144.26 $163.08
Dumbarton Castle from the Clyde 150 year old,A genuine Antique Print.
ID Code ac029a1023
Price £65 €75.02 $84.80
Single E,P,N,S Chamber Stick
ID Code ac029a1022
POA
E.A Fraser pair of Watercolours Librnik Castle The Rhine ,can be sold as a pair or separate.
ID Code ac029a1019
Price £750 €865.58 $978.45
Pair of black metal book ends
ID Code ac029a1017
POA
Cast Fire Insert
ID Code ac029a1013
Price £250 €288.53 $326.15
1900 Fire Surround. Insert sold seperatly.
ID Code ac029a1012
Price £160 €184.66 $208.74
Narrow Oak Arts & Crafts Bureau
ID Code ac029a1010
Price £375 €432.79 $489.23
Wedgwood bowl Blue & White
ID Code ac029a1006
Price £80 €92.33 $104.37
Tunbridge Ware Page Turner
ID Code ac029a1002
Price £35 €40.39 $45.66
Page :
Previous
1
2
3
4
5
6
7
8
9
10
11
12
Next
© Aberdeen Antique Centre, 2019