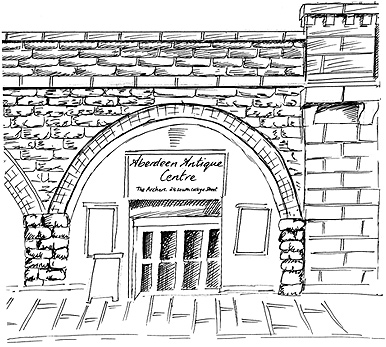 Aberdeen Antique Centre
The Arches, 24 South College Street
Aberdeen, AB11 6JX, Scotland
Telephone : 07801 441834
Web : www.AberdeenAntiqueCentre.com
Email : sales@AberdeenAntiqueCentre.com
The centre is currently operating ONLINE only. Please make all enquiries via phone or email.


View All
For Sale Items,
Page : Previous123456789101112Next
Total : 134
Pair Of Trench Art Dish's
ID Code ac029a986
Price £25 €27.96 $32.93
Rosetti window design glass dish signed
ID Code ac029a985
Price £15 €16.78 $19.76
Unique Slide Rule
ID Code ac029a983
Price £55 €61.51 $72.44
W.H.Harling London Parallel Ruler
ID Code ac029a982
Price £45 €50.33 $59.27
Victorian Ladies Desk Box
ID Code ac029a981
POA
Oyster shell trinket box
ID Code ac029a980
Price £15 €16.78 $19.76
Brass Kettle With Amber Handle
ID Code ac029a979
Price £35 €39.14 $46.10
Antique chemist scales in a cabinet
ID Code ac029a976
Price £225 €251.64 $296.35
Early copper wash dolly
ID Code ac029a973
Price £45 €50.33 $59.27
Victorian Wrought Iron Weight Scale,very rare as it still has the weight with it,these usually go missing.
ID Code ac029a965
Price £175 €195.72 $230.49
Victorian display cabinet for possible Taxidermy i will sell as separates with or without the fox's.
ID Code ac029a964
Price £500 €559.20 $658.55
19th Century Ladies Nursing Chair
ID Code ac029a961
Price £165 €184.54 $217.32
Page :
Previous
1
2
3
4
5
6
7
8
9
10
11
12
Next
© Aberdeen Antique Centre, 2017