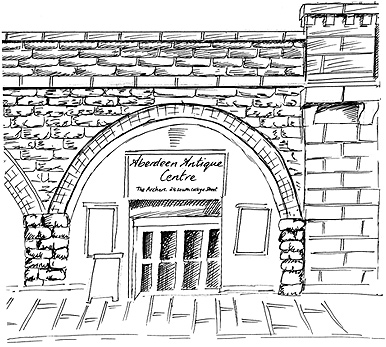 Aberdeen Antique Centre
The Arches, 24 South College Street
Aberdeen, AB11 6JX, Scotland
Telephone : 07801 441834
Web : www.AberdeenAntiqueCentre.com
Email : sales@AberdeenAntiqueCentre.com
The centre is currently operating ONLINE only. Please make all enquiries via phone or email.


View All
For Sale Items,
Page : Previous123456789101112Next
Total : 134
Nice Edwardian Bedroom Chair
ID Code ac029a955
Price £195 €218.09 $256.83
Early Brass Scimmer
ID Code ac029a950
Price £25 €27.96 $32.93
Victorian Candle Snuffer
ID Code ac029a949
Price £40 €44.74 $52.68
Large Dressing Table Mirror
ID Code ac029a938
POA
Medium size pine gun cabinet.
ID Code ac029a937
Price £300 €335.52 $395.13
POA
Large pine gun cabinet.
ID Code ac029a936
Price £350 €391.44 $460.99
Nice Clean Barley Twist legs wash stand, this would look equally good in a kitchen or conservatory.
ID Code ac029a932
POA
Beautiful 5 drawer victorian chest
ID Code ac029a929
length 128cm , depth 54cm , hieght 106cm
Price £650 €726.96 $856.12
Ladies 18ct gold watch,the makers name is "Favre-Leuba" a swiss made timepiece in immaculate condition although a slight scratch on the original crystal. The bracelet is yellow metal. Fully serviced and ready to wear.A very feminine watch in period box
ID Code ac029a903
Price £175 €195.72 $230.49
Includes postage
Tavennes 1930s 9ct gold watch .The first waterproof watch and very rare..
ID Code ac029a891
Price £550 €615.12 $724.41
please call for details
Silver pepper pot by William Henry Sparrow 1911
ID Code ac029a886
Price £165 €184.54 $217.32
Please call for details
Late Victorian silver vase by Henry Williamson Birmingham 1900,nice condition.
ID Code ac029a882
Price £225 €251.64 $296.35
please call for dteails
Page :
Previous
1
2
3
4
5
6
7
8
9
10
11
12
Next
© Aberdeen Antique Centre, 2017