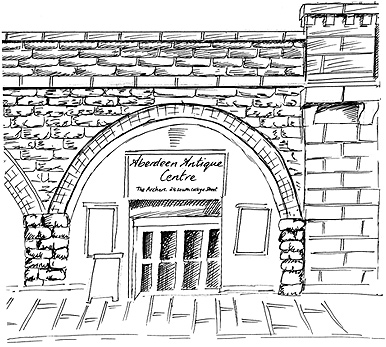 Aberdeen Antique Centre
The Arches, 24 South College Street
Aberdeen, AB11 6JX, Scotland
Telephone : 07801 441834
Web : www.AberdeenAntiqueCentre.com
Email : sales@AberdeenAntiqueCentre.com
The centre is currently operating ONLINE only. Please make all enquiries via phone or email.


View All
For Sale Items,
Page : Previous123456789101112Next
Total : 137
Tavennes 1930s 9ct gold watch .The first waterproof watch and very rare..
ID Code ac029a891
Price £550 €599.78 $666.27
please call for details
Silver pepper pot by William Henry Sparrow 1911
ID Code ac029a886
Price £165 €179.93 $199.88
Please call for details
Late Victorian silver vase by Henry Williamson Birmingham 1900,nice condition.
ID Code ac029a882
Price £225 €245.36 $272.57
please call for dteails
Top quality model of naval gun from a ship of the line. From the period of Admiral Lord Nelson,this is a very good example of its type. Brass and wood construction.
ID Code ac029a871
Price £65 €70.88 $78.74
Please call for details
Sterling silver pair of egg spoons make by Sarah and John William Blake, London 1818
ID Code ac029a867
13.5cm Long
Price £135 €147.22 $163.54
Walker and Hall coffee spoons from 1929, Sheffield silver.
ID Code ac029a866
9.5 cm long
Price £125 €136.31 $151.43
victorian style display cabinet(repro) ideal as showcase and fully wired with spotlights.Original legs and castors.
ID Code ac029a836
Price £500 €545.25 $605.70
Wonderfully delicate Art Nouveau 'Amphora', made in Austria c.1900, possibly by Eduard Stellmacher. It is impressed with the mark "Amphora 4290" on the base.
ID Code ac029a825
Price £475 €517.99 $575.42
c1860 Buckle brooch / pendant with variety of agate stones in an unusual setting
ID Code ac029a812
4.5 cm wide
Price £165 €179.93 $199.88
A 1957 copy of the Beano book ARC
ID Code ac029a692
Price £60 €65.43 $72.68
The Art of Angling volumes 1, 2 and 3. Edited by Kenneth Mansfield (SMA)
ID Code ac029a621
Price £65 €70.88 $78.74
Lovely Rabbie Burns plate (SMA)
ID Code ac029a616
Price £65 €70.88 $78.74
Page :
Previous
1
2
3
4
5
6
7
8
9
10
11
12
Next
© Aberdeen Antique Centre, 2019