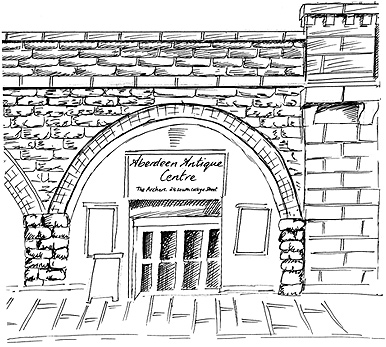 Aberdeen Antique Centre
The Arches, 24 South College Street
Aberdeen, AB11 6JX, Scotland
Telephone : 07801 441834
Web : www.AberdeenAntiqueCentre.com
Email : sales@AberdeenAntiqueCentre.com
The centre is currently operating ONLINE only. Please make all enquiries via phone or email.


Jewellery, Brooches
Sold Items,
Total : 73
Great for dealers may like them for their shops or Centres 3 Ex bespoke jewellery display cabinets ideal for silver , porcelain , watches and high value small items. Cost £3500 each sell £ 600 each or £1500 for all 3
ID Code ac029a1206
Price £400 €444.08 $498.64
Rose Gold Masonic Lapel Pin 1900
ID Code ac029a1096
Price £125 €138.78 $155.83
Very rare 1938 Bulova 'Brewster' with articulated lugs.
ID Code ac029a1044
Price £250 €277.55 $311.65
Victorian Jewellery Box stunning rich inside colour.
ID Code ac029a971
Price £95 €105.47 $118.43
Diamond and Sapphire antique platinum ring. Features old cut diamonds 1.1 carat approx.Top quality sapphire(0.75) carat.
ID Code ac029a888
Price £2500 €2775.50 $3116.50
Please call for details
Beautiful Victorian double albert chain with a pale citrine fob.
ID Code ac029a851
Total length is 38cm
Price £700 €777.14 $872.62
Silver Watch by T Harrison Birmingham.
ID Code ac029a820
Price £200 €222.04 $249.32
Victorian Trinket Box ,velvet lined,excellent quality.
ID Code ac029a818
Price £40 €44.41 $49.86
A beautiful citrine and seed pearl pendant set in 15ct gold, with a 9ct gold chain. KM
ID Code ac029a808
Price £250 €277.55 $311.65
An elegant diamond and pearl ring set in 18ct gold. Approx size M. KM
ID Code ac029a807
Price £330 €366.37 $411.38
The Southern Cross, or Crux, is a constellation of stars visible in the Southern hemisphere. This piece was made in Australia, where the cross resides on the Australian flag. The brooch is from the Victorian era, and has five fantastic opals set in 9ct gold. KM
ID Code ac029a806
5cm Long
SOLD
A wonderful citrine set in 9ct yellow gold. KM
ID Code ac029a805
7cm, or 2 3/4"
Price £120 €133.22 $149.59
Page :
1
2
3
4
5
6
7
Next
© Aberdeen Antique Centre, 2020