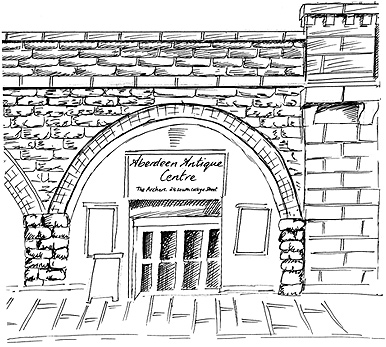 Aberdeen Antique Centre
The Arches, 24 South College Street
Aberdeen, AB11 6JX, Scotland
Telephone : 07801 441834
Web : www.AberdeenAntiqueCentre.com
Email : sales@AberdeenAntiqueCentre.com
The centre is currently operating ONLINE only. Please make all enquiries via phone or email.


Furniture, Chairs
Sold Items,
Page : 123456789101112131415Next
Total : 329
Victorian apothecary chest of 14 drawers with their original glass drawer pulls in very good general condition. 34" high 13" deep 32" wide (almost)
ID Code ac029a1246
Price £350 €381.36 $447.83
Please ring
Edwardian Ladies Writing Desk
ID Code ac029a1245
42" x 21" x 29.5"
Price £475 €517.56 $607.76
Scottish Victorian pitch pine good quality lowland kitchen dresser with lower cupboards / drawers and upper drawers. Has the original brass exterior hinges on the doors. Could be used in the kitchen , bathroom , office , hallway etc. or anywhere good storage is required. A well made unit with dovetail drawers and mortice and tennon top / sides Presently on castors Circ 1860.
ID Code ac029a1244
Price £850 €926.16 $1087.58
Victorian mahogany console table. Circ 1900's
ID Code ac029a1240
Price £325 €354.12 $415.84
Victorian Oak hat stand. Circ 1900
ID Code ac029a1239
Price £295 €321.43 $377.45
Victorian Mahogany Ogee chest of drawers, in excellent condition.
ID Code ac029a1237
Price £795 €866.23 $1017.20
Late Victorian teachers lecturn desk with lockable cupboard and desktop in very good condition . Would make a real quirky reception desk for a hairdresser , restaurant , tattooist or for doing presentations at a conference.
ID Code ac029a1236
Price £275 €299.64 $351.86
Antique Victorian Mahogany Sewing Table, This Victorian mahogany sewing table has a rectangular top which lifts and revels compartments for your sewing with ivory fittings.
ID Code ac029a1232
POA
Army officer's oak campaign desk in very good condition. Would make lovely lamp or sofa table in modern home especially with the " conversation piece " aspect Is capable of being folded for transport if the middle stretcher is unscrewed and the legs folded just as it would have done on active service Circ 1895
ID Code ac029a1223
Price £495 €539.35 $633.35
Victorian extending oak dining table seats ten includes six chairs . In very good condition . Table £900 Chairs £ 300
ID Code ac029a1216
Price in description
Edwardian mahogany dining table to seat ten persons shown with no leafs inserted. Ten matching dining chairs in traditional regency stripe includes two carvers with "ball and claw feet " will sell separately if required Circ 1920 price table £1500 chairs £1000
ID Code ac029a1215
POA
Very early 17th century oak settle which is in a completely original "unrestored" condition meaning it can be waxed , stained , coloured to your required finish. It is fine as it is and would be best just done with a fine coat of wax which allows the original wood finish to be seen.
ID Code ac029a1207
Price £950 €1035.12 $1215.53
Page :
1
2
3
4
5
6
7
8
9
10
11
12
13
14
15
Next
© Aberdeen Antique Centre, 2020