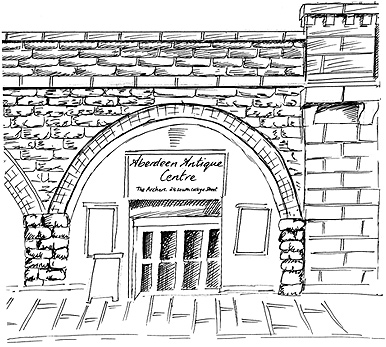 Aberdeen Antique Centre
The Arches, 24 South College Street
Aberdeen, AB11 6JX, Scotland
Telephone : 07801 441834
Web : www.AberdeenAntiqueCentre.com
Email : sales@AberdeenAntiqueCentre.com
The centre is currently operating ONLINE only. Please make all enquiries via phone or email.


Glass
Sold Items,
Total : 21
Studio Glass Vase 1960
ID Code ac029a1155
Price £45 €52.13 $57.62
1900 bohemian glass pen tray with Stag
ID Code ac029a1135
Price £40 €46.34 $51.22
Victorian opeline glass vase
ID Code ac029a1130
Price £22 €25.49 $28.17
Art Deco French Glass Centrepiece Bowl Verlys
ID Code ac029a1127
Price £400 €463.40 $512.16
Monart Posy Vase 1930
ID Code ac029a1124
Price £50 €57.93 $64.02
A delicate little pink and yellow vase dating from the 1900s.
ID Code ac029a790
Price £130 €150.61 $166.45
Lovely decorative Sabino glass fish AI
ID Code ac029a509
Price £75 €86.89 $96.03
Beautiful and rare Nailsea glass boat. Handblown, possibly an apprentice piece.
ID Code ac029a475
sold
Signed lalique dampierre vase AI
ID Code ac029a461
Price £550 €637.18 $704.22
Lalique Coquille Plate
ID Code ac029a460
sold
Two victorian lustre vase. They both have the wonderful appearance of mother of pearl. This would have originally been a set of three with the larger vase displayed at the center with the two trumpet vases either side. The trumpet vase stands in a gilt stand with leaf motiff.
ID Code ac029a441
Large vase approx 8 3/4 ins high. Small vase approx 7 3/4 ins high.
sold
Pair of Clear & Blue Glass Decanters, late 19th Century.
ID Code ac029a395
Diameter 5'', Height 17.5''
sold
Page :
1
2
Next
© Aberdeen Antique Centre, 2019