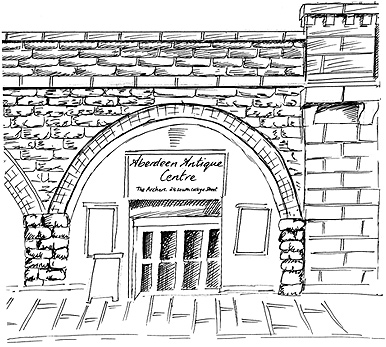 Aberdeen Antique Centre
The Arches, 24 South College Street
Aberdeen, AB11 6JX, Scotland
Telephone : 07801 441834
Web : www.AberdeenAntiqueCentre.com
Email : sales@AberdeenAntiqueCentre.com
The centre is currently operating ONLINE only. Please make all enquiries via phone or email.


Ivory
Sold Items,
Total : 10
Square Ivory carved / inscribed dressing table box circ 1900
ID Code ac029a1194
Price £425.00 €465.55 $550.46
Ivory carved box depicting Five elephants with trees and jungle. Circ 1900.
ID Code ac029a1193
Price £425 €465.55 $550.46
POA
okimono - child/man/turtle early 20th century
ID Code ac029a1161
Price £130 €142.40 $168.38
Cloth and mask sellers - netsuke mid 19th century
ID Code ac029a1159
Price £350 €383.39 $453.32
Lovely Indian carved ivory elephant with tusks still intact.
ID Code ac029a856
3.5cm at highest point 5cm at widest point
POA
Ganesh is one of the most recognisable of the Hindu Gods. He is widely revered as the Remover of Obstacles and more generally as Lord of Beginnings and Lord of Obstacles, patron of arts and sciences, and the deva of intellect and wisdom.
ID Code ac029a854
12cm tall 5cm at widest part
POA
Saraswati is the Hindu goddess of knowledge, music and the arts.
ID Code ac029a853
13cm tall including base 5.5cm at widest part
POA
Lakshmi is the Hindu goddess of wealth, prosperity (both material and spiritual), light, wisdom, fortune, fertility, generosity and courage and is the embodiment of beauty, grace and charm.
ID Code ac029a852
9cm tall including base 3.5cm at widest part
POA
Charismatic ivroy figure of a gardener with a red seal signature on the base
ID Code ac029a794
Price £395 €432.68 $511.60
Highly detailed ivory figure of a farmer and merchant from the Meiji period. Signed on the base.
ID Code ac029a793
Price £415 €454.59 $537.51
© Aberdeen Antique Centre, 2020