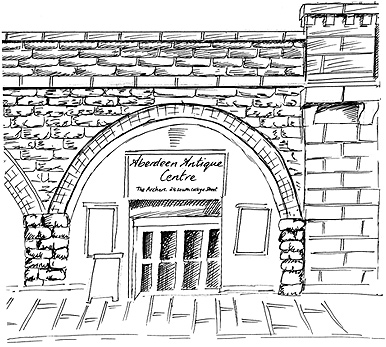 Aberdeen Antique Centre
The Arches, 24 South College Street
Aberdeen, AB11 6JX, Scotland
Telephone : 07801 441834
Web : www.AberdeenAntiqueCentre.com
Email : sales@AberdeenAntiqueCentre.com
The centre is currently operating ONLINE only. Please make all enquiries via phone or email.


Lighting
Sold Items,
Total : 8
French Gas Lamp Base By Samson 1860
ID Code ac029a1125
Price £750 €868.88 $960.30
Leith Masthead Lamp c1930
ID Code ac029a1077
Price £150 €173.78 $192.06
Art Deco Lighthouse shaped Lamp With Mauchlin Box Attached.
ID Code ac029a1009
From memorie 12" 14"
Price £75 €86.89 $96.03
French Crystal Chandelier, gilded rim.
ID Code ac029a275
Height 22'', diameter 12''
SOLD
Chandelier.
ID Code ac029a118
SOLD
Pair of small table lamps with Dresden cherubs playing music accompanied by singing birds.
ID Code ac029a068
22cm high
Price £90 €104.27 $115.24
Art Deco light with Doulton figure 'Marietta'. Original fringed lampshade
ID Code ac029a088
45cm high
SOLD
Ceramic Oil Lamp
ID Code ac029a052
59.5 cm high
SOLD
© Aberdeen Antique Centre, 2019