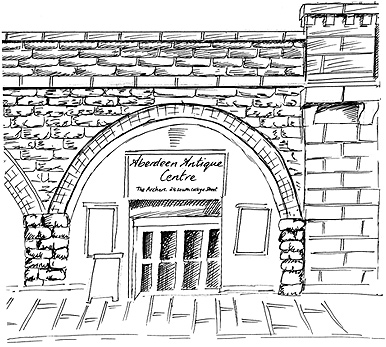 Aberdeen Antique Centre
The Arches, 24 South College Street
Aberdeen, AB11 6JX, Scotland
Telephone : 07801 441834
Web : www.AberdeenAntiqueCentre.com
Email : sales@AberdeenAntiqueCentre.com
The centre is currently operating ONLINE only. Please make all enquiries via phone or email.


Militaria
Sold Items,
Total : 8
World War 1 Trench Art Vase 1909
ID Code ac029a1080
Price £35 €39.10 $44.15
WW1 Webley Revolver Leather Holster
ID Code ac029a946
Price £55 €61.44 $69.38
Very rare recognition model of a Bristol Blenheim aircraft. Formed the backbone of coastal command of WWII this outdated light fighter bomber put its pilots in great danger from the single sear german fighters. A must for the serious collector as very few now exist.
ID Code ac029a872
Price £85 €94.95 $107.23
Please call for further details
World War II metal recognition model. Iconic design from WWII which was used to train aircrew and prevent friendly fire. A must for the serious collector.
ID Code ac029a870
Price £85 €94.95 $107.23
Call for further details
Set of 4 Orders 1. GRI VI The 1939-1945 Bronze Star. 2. The Defence Medal 1939-1945. 3. War Service Medal 1939-1945. 4. Queen Elizabeth II Coronation Medal (1953) Should you require any more information please email us.
ID Code ac029a269
SOLD
The Order of Dannebrog. 1947-72 Silver & Enamel Danish Medal. Instituted in 1671 by King Christian V of Denmark. The obverse features the monogram of Christian V and the inscription "Gud og Kongen" which means "God and the King".
ID Code ac029a268
Width 1'', height 3''
SOLD
Barrack Sign Fife and Forfar Yeomanry Scottish Horse
ID Code ac029a049
SOLD
Thailand Order of White Elephant Medal
ID Code ac029a047
SOLD
© Aberdeen Antique Centre, 2020