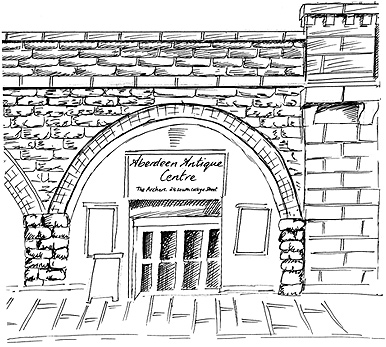 Aberdeen Antique Centre
The Arches, 24 South College Street
Aberdeen, AB11 6JX, Scotland
Telephone : 07801 441834
Web : www.AberdeenAntiqueCentre.com
Email : sales@AberdeenAntiqueCentre.com
The centre is currently operating ONLINE only. Please make all enquiries via phone or email.


Silver
Sold Items,
Total : 28
London Silver 1964 condiment set
ID Code ac029a1150
Please ask
Sheffield Silver 1946 Napkin Rings
ID Code ac029a1149
Price £120 €133.49 $157.07
Birmingham Silver 1945 condiment set
ID Code ac029a1148
Price £110 €122.36 $143.98
Birmingham silver 1923 Lobster picks golf clubs
ID Code ac029a1147
Price £160 €177.98 $209.42
Pair of Birmingham Silver Sauce Boats 1902 1903
ID Code ac029a1146
120 each
1920 Silver box
ID Code ac029a1145
Price £195 €216.92 $255.24
Silver 1906 Birmingham patch box
ID Code ac029a1144
Please call
This is a really lovely Tantalus with key.
ID Code ac029a935
POA
George III silver christening mug,best quality antique silver. London 1812. Engraving of CFG on cup.
ID Code ac029a884
Price £245 €272.54 $320.68
Please call for details
Cigar Box A.J.Zimmerman Birmingham 1916.
ID Code ac029a821
Price £525 €584.01 $687.17
H Samuel Pocket Watch Fully Serviced
ID Code ac029a819
Price £195 €216.92 $255.24
A silver and tortoiseshell ink well made in London 1917 KM
ID Code ac029a809
4cm High 6.5cm Wide
Price £155 €172.42 $202.88
Page :
1
2
3
Next
© Aberdeen Antique Centre, 2020