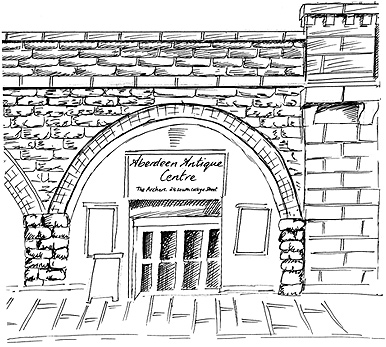 Aberdeen Antique Centre
The Arches, 24 South College Street
Aberdeen, AB11 6JX, Scotland
Telephone : 07801 441834
Web : www.AberdeenAntiqueCentre.com
Email : sales@AberdeenAntiqueCentre.com
The centre is currently operating ONLINE only. Please make all enquiries via phone or email.


Sport
Sold Items,
Total : 5
Vintage Hardy Trout Landing Net with the legendary "one hand " opening operation . In very good condition .
ID Code ac029a1225
Price £150.00 €169.17 $198.84
Fisherman's Gaff Possibly Farlows
ID Code ac029a1001
Price £45 €50.75 $59.65
Lovely Old Fishing creel/basket
ID Code ac029a999
Price £125 €140.98 $165.70
Cogswell and Harrison of London oak and canvas cartridge magazine with brass mounts and leather trim. SMA
ID Code ac029a608
Price £375 €422.93 $497.10
Traditional scarred head driver by James Gourlay & Junior, Carnoustie circa 1895. Shafted by Clapshaw's & Cleave. The club is in good condition for it's age. There is a 'Gourlay' impressed msrk on top side of driver head, and 'Clapshaw & Cleave' mark on shaft.
ID Code ac029a437
Standard
sold
© Aberdeen Antique Centre, 2018