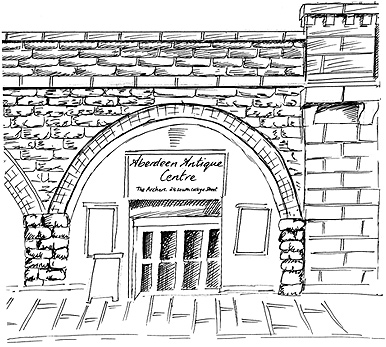 Aberdeen Antique Centre
The Arches, 24 South College Street
Aberdeen, AB11 6JX, Scotland
Telephone : 07801 441834
Web : www.AberdeenAntiqueCentre.com
Email : sales@AberdeenAntiqueCentre.com
The centre is currently operating ONLINE only. Please make all enquiries via phone or email.


Clocks And Timepieces, Watches
Sold Items,
Total : 41
Very thin 1940's Gruen Watch, in perfect working order.
ID Code ac029a1227
Price £325.00 €356.01 $420.94
Lord Elgin Men's Art Deco Watch in original box in perfect working order.
ID Code ac029a1226
Price £365.00 €399.82 $472.75
1930's Lord Elgin Mens wrist watch, perfect condition in original box.
ID Code ac029a1222
Price £395.00 €432.68 $511.60
Art Deco Orator Swiss watch 1930 in its original box and in " mint condition " would make a different Stunning Xmas present for that special someone in your life. 12 months warranty on all our watches.
ID Code ac029a1221
Price £375.00 €410.78 $485.70
1948 Bulova His Excellency 'NN' . Lovely Chain mail Bracelet.
ID Code ac029a1049
Price £220 €240.99 $284.94
1940 Bulova 'Engineer' Mint. Very Rare.
ID Code ac029a1048
Price £320 €350.53 $414.46
1938 Bulova Lady 'Rite Angle'
ID Code ac029a1046
Price £240 €262.90 $310.85
1949 Bulova His Excellency 'NN' White Gold, Charcoal Face.
ID Code ac029a1045
Price £280 €306.71 $362.66
Mahogany cased ships clock,by F.Pearson & co Newport.
ID Code ac029a1011
POA
Black slate mantel clock with malachite detail.
ID Code ac029a963
Price £450 €492.93 $582.84
POA
Superb vintage 8 day swiss pocket watch with enamel face and visible escapement. Fully serviced.. Face is in excellent conditon with no visible flaws.
ID Code ac029a885
Price £330 €361.48 $427.42
Please call for details
Beautiful brass clock cica 1910. French made possibly in Paris. Lovely clean face and immaculate condition. Fully serviced timepiece. Maker unknown as clock is unmarked.
ID Code ac029a881
Price £230 €251.94 $297.90
Please call for further details
Page :
1
2
3
4
Next
© Aberdeen Antique Centre, 2020