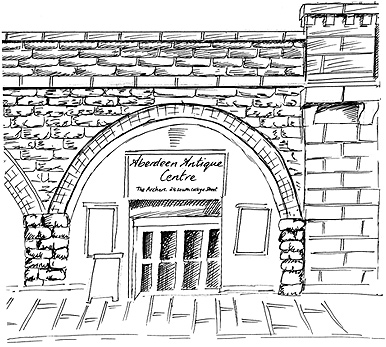 Aberdeen Antique Centre
The Arches, 24 South College Street
Aberdeen, AB11 6JX, Scotland
Telephone : 07801 441834
Web : www.AberdeenAntiqueCentre.com
Email : sales@AberdeenAntiqueCentre.com
The centre is currently operating ONLINE only. Please make all enquiries via phone or email.


Furniture
For Sale Items,
Total : 28
Description to follow.
ID Code ac029a1247
Price to be added.
Victorian apothecary chest of 14 drawers with their original glass drawer pulls in very good general condition. 34" high 13" deep 32" wide (almost)
ID Code ac029a1246
Price £350 €391.44 $460.99
Please ring
Edwardian Ladies Writing Desk
ID Code ac029a1245
42" x 21" x 29.5"
Price £475 €531.24 $625.62
Art Nouveau Mahogany bookcase / display cabinet with the original stunning stained glass doors.
ID Code ac029a1243
Price £350 €391.44 $460.99
Victorian Double Cane Bergier Walnut Sofa in very good condition with no damage to the cane. Recovered in light water silk type fabric Lovely carved legs back and feet. £975 Circ 1870
ID Code ac029a1242
Price £350 €391.44 $460.99
Victorian Mahogany Whatnot, 5 shelf, in excelent condition.
ID Code ac029a1241
Price £200 €223.68 $263.42
Victorian Oak Dressing Table/Wash Stand. Made at Balmoral Estate for Queen Victoria's Osborne Palace on the Isle of Wight, however the table was gifted to a favourite lady in waiting on the occasion of her marriage to gardner who also work on the estate. This table featured on BBC Antiques Roadshow series from Balmoral on the 13th Jan 2016
ID Code ac029a1234
POA
Good Quality Victorian Pedestal desk in mahogany and of small proportions to fit the majority of studies or home offices In very good condition including the dark green leather skiver. Circ 1890
ID Code ac029a1214
Price £450 €503.28 $592.70
Victorian Mahogany Cylinder Desk in very good condition circ 1890 £1850
ID Code ac029a1185
Price £750 €838.80 $987.83
Fine quality arts and crafts bureau bookcase in honey oak with leaded glass doors and original handles
ID Code ac029a1174
Price £650 €726.96 $856.12
arts and crafts bureau bookcase
19thc Ladies Nursing chair
ID Code ac029a1108
Price £165 €184.54 $217.32
19c Nursing chair
ID Code ac029a1107
Price £275 €307.56 $362.20
Page :
1
2
3
Next
© Aberdeen Antique Centre, 2017