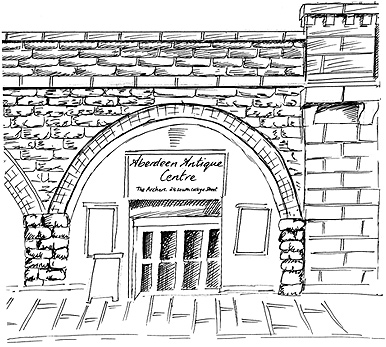 Aberdeen Antique Centre
The Arches, 24 South College Street
Aberdeen, AB11 6JX, Scotland
Telephone : 07801 441834
Web : www.AberdeenAntiqueCentre.com
Email : sales@AberdeenAntiqueCentre.com
The centre is currently operating ONLINE only. Please make all enquiries via phone or email.


Jewellery
For Sale Items,
Total : 5
Victorian Ivory silver plated card case in very good servicable.condition. The ideal gift for the executive who wants the best. Circ 1880- 1900 £ 295
ID Code ac029a1204
Price £295 €326.62 $386.30
Masonic Rose Gold Fob 1920
ID Code ac029a1097
Price £160 €177.15 $209.52
18ct & Plat Diamond Ring 1920's
ID Code ac029a1078
Price £475 €525.92 $622.01
1950s Stunning Lady Elgin in original black bakelite case.
ID Code ac029a1043
Price £240 €265.73 $314.28
c1860 Buckle brooch / pendant with variety of agate stones in an unusual setting
ID Code ac029a812
4.5 cm wide
Price £165 €182.69 $216.07
© Aberdeen Antique Centre, 2020