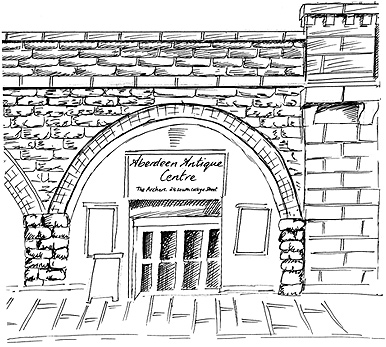 Aberdeen Antique Centre
The Arches, 24 South College Street
Aberdeen, AB11 6JX, Scotland
Telephone : 07801 441834
Web : www.AberdeenAntiqueCentre.com
Email : sales@AberdeenAntiqueCentre.com
The centre is currently operating ONLINE only. Please make all enquiries via phone or email.


Clocks And Timepieces
For Sale Items,
Total : 4
1949 Bulova His Excellency 'NN' Mint Condition.
ID Code ac029a1050
Price £360 €419.98 $463.39
Ladies 18ct gold watch,the makers name is "Favre-Leuba" a swiss made timepiece in immaculate condition although a slight scratch on the original crystal. The bracelet is yellow metal. Fully serviced and ready to wear.A very feminine watch in period box
ID Code ac029a903
Price £175 €204.16 $225.26
Includes postage
Tavennes 1930s 9ct gold watch .The first waterproof watch and very rare..
ID Code ac029a891
Price £550 €641.63 $707.96
please call for details
Longcase clock by Jas. Andrews Coleraine. 8 day movement with anchor escapement striking on a bell, 13'' brass silvered dial chased with foliage. Roman & arabic numerals and inner second dial. The oak and mahogany case with moulded cornice and blind fret frieze on turned columns. Arched door with shell patera inlay flanked by corner columns canted base and bracket feet. SMA
ID Code ac029a201
Width 22''/56cm Height 83''/214cm Depth 10''/25cm
Price £1500 €1749.90 $1930.80
© Aberdeen Antique Centre, 2019