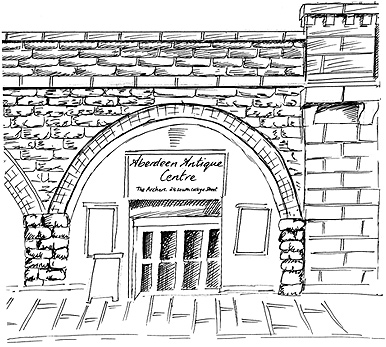 Aberdeen Antique Centre
The Arches, 24 South College Street
Aberdeen, AB11 6JX, Scotland
Telephone : 07801 441834
Web : www.AberdeenAntiqueCentre.com
Email : sales@AberdeenAntiqueCentre.com
The centre is currently operating ONLINE only. Please make all enquiries via phone or email.


Miscellaneous
For Sale Items,
Total : 18
Very very Rare Japanese (Edo period) Sode shoulder guard modelled from a 16th century design and in good condition. A one off wall decoration for your office or study. Not many people will own such a rare piece of history which belonged to someone and was hand made approx 200 years ago Can be mounted in wall display cabinet from one of our different styles to suit your requirements.
ID Code ac029a1233
Price £295 €326.62 $386.30
HRH Prince Henry of Battenberg silver plate and snakeskin hip flask 1895,presented to James Cowie a ghillie on Deeside, in excellent codition and still seals as it should with exquisite victorian engraving. A very unique item knowing who may have drunk from this item on the day is was presented at Balmoral.
ID Code ac029a1229
POA
Late Victorian Microscope 1890 London
ID Code ac029a1154
Price £180 €199.30 $235.71
Brass Skillet- 18th c.- Georgian
ID Code ac029a1074
Price £95 €105.18 $124.40
Arts And Crafts Silvered Copper Charger Golf interest 1915
ID Code ac029a1065
Price £35 €38.75 $45.83
Tunbridge Ware Page Turner
ID Code ac029a1002
Price £35 €38.75 $45.83
Pair Of Trench Art Dish's
ID Code ac029a986
Price £25 €27.68 $32.74
Unique Slide Rule
ID Code ac029a983
Price £55 €60.90 $72.02
W.H.Harling London Parallel Ruler
ID Code ac029a982
Price £45 €49.82 $58.93
Victorian Ladies Desk Box
ID Code ac029a981
POA
Oyster shell trinket box
ID Code ac029a980
Price £15 €16.61 $19.64
Brass Kettle With Amber Handle
ID Code ac029a979
Price £35 €38.75 $45.83
Page :
1
2
Next
© Aberdeen Antique Centre, 2020