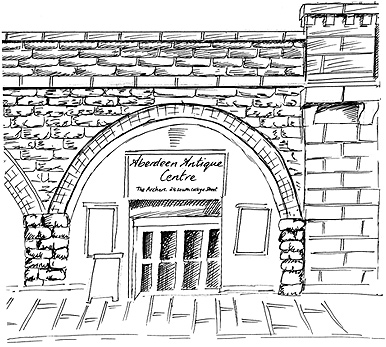 Aberdeen Antique Centre
The Arches, 24 South College Street
Aberdeen, AB11 6JX, Scotland
Telephone : 07801 441834
Web : www.AberdeenAntiqueCentre.com
Email : sales@AberdeenAntiqueCentre.com
The centre is currently operating ONLINE only. Please make all enquiries via phone or email.


Militaria
For Sale Items,
Total : 4
Japanese armour neck shield circ 1700 with signature
ID Code ac029a1195
Price £375 €412.84 $455.06
Boer war South Africa Medal with three battle honours. The Natal battle honour is very rare and gives this particular medal it's much sought after desirability
ID Code ac029a1175
Price £290 €319.26 $351.92
Trench Art Tank Corps 1916
ID Code ac029a1069
Price £100 €110.09 $121.35
Top quality model of naval gun from a ship of the line. From the period of Admiral Lord Nelson,this is a very good example of its type. Brass and wood construction.
ID Code ac029a871
Price £65 €71.56 $78.88
Please call for details
© Aberdeen Antique Centre, 2020