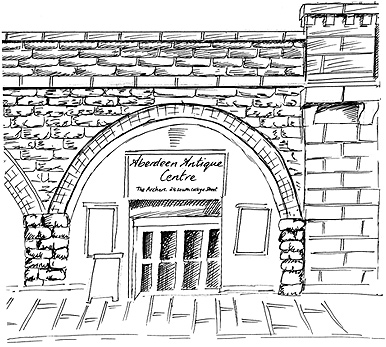 Aberdeen Antique Centre
The Arches, 24 South College Street
Aberdeen, AB11 6JX, Scotland
Telephone : 07801 441834
Web : www.AberdeenAntiqueCentre.com
Email : sales@AberdeenAntiqueCentre.com
The centre is currently operating ONLINE only. Please make all enquiries via phone or email.


View All
For Sale Items,
Total : 137
Antique mahogany hat stand with original hat supports. Circa 1870.
ID Code ac029a1254
Price £550 €661.98 $718.03
Early Double cane bergier sofas in very good condition with totally intact cane work. There are 3 items in total and individually priced at £ 850 for the 3 seater and £ 750 for each of the two seaters Or the 3 items for £2200
ID Code ac029a1253
price in descriptions
Victorian mahogany cylinder pedestal desk with lovely fitted interior and leather writing surfaces . the central portion of the desk can also be raised as as writing / reading slope.
ID Code ac029a1252
Price £600 €722.16 $783.30
Georgian Style Mahogany Inlaid sideboard on tapering legs with spade feet
ID Code ac029a1250
Price £950 €1143.42 $1240.23
Georgian Style Mahogany Inlaid sideboard on tapering legs with spade feet
ID Code ac029a1249
Price £950 €1143.42 $1240.23
Victorian flame Mahogany 3 door chiffioner / sideboard in lovely condition with fitted interior and baize lined cutlery drawer.
ID Code ac029a1248
Price £950 €1143.42 $1240.23
Art Nouveau Mahogany bookcase / display cabinet with the original stunning stained glass doors.
ID Code ac029a1243
Price £250 €300.90 $326.38
Victorian Double Cane Bergier Walnut Sofa in very good condition with no damage to the cane. Recovered in light water silk type fabric Lovely carved legs back and feet. £975 Circ 1870
ID Code ac029a1242
Price £350 €421.26 $456.93
Victorian Mahogany Whatnot, 5 shelf, in excelent condition.
ID Code ac029a1241
Price £150 €180.54 $195.83
Victorian Oak Dressing Table/Wash Stand. Made at Balmoral Estate for Queen Victoria's Osborne Palace on the Isle of Wight, however the table was gifted to a favourite lady in waiting on the occasion of her marriage to gardner who also work on the estate. This table featured on BBC Antiques Roadshow series from Balmoral on the 13th Jan 2016
ID Code ac029a1234
POA
Very very Rare Japanese (Edo period) Sode shoulder guard modelled from a 16th century design and in good condition. A one off wall decoration for your office or study. Not many people will own such a rare piece of history which belonged to someone and was hand made approx 200 years ago Can be mounted in wall display cabinet from one of our different styles to suit your requirements.
ID Code ac029a1233
Price £295 €355.06 $385.12
HRH Prince Henry of Battenberg silver plate and snakeskin hip flask 1895,presented to James Cowie a ghillie on Deeside, in excellent codition and still seals as it should with exquisite victorian engraving. A very unique item knowing who may have drunk from this item on the day is was presented at Balmoral.
ID Code ac029a1229
POA
Page :
1
2
3
4
5
6
7
8
9
10
11
12
Next
© Aberdeen Antique Centre, 2020