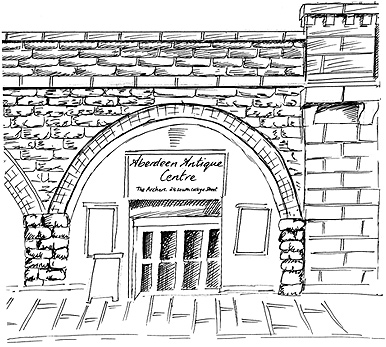 Aberdeen Antique Centre
The Arches, 24 South College Street
Aberdeen, AB11 6JX, Scotland
Telephone : 07801 441834
Web : www.AberdeenAntiqueCentre.com
Email : sales@AberdeenAntiqueCentre.com
The centre is currently operating ONLINE only. Please make all enquiries via phone or email.


View All
For Sale Items,
Page : Previous123456789101112Next
Total : 134
Victorian Ivory silver plated card case in very good servicable.condition. The ideal gift for the executive who wants the best. Circ 1880- 1900 £ 295
ID Code ac029a1204
Price £295 €330.61 $388.49
Victorian Burr Walnut Jewellery Box with Tunbridge and Mother of Pearl inlay Lined internals and fitted removable tray.
ID Code ac029a1196
Price £325 €364.23 $427.99
Japanese armour neck shield circ 1700 with signature
ID Code ac029a1195
Price £375 €420.26 $493.84
Victorian Mahogany Cylinder Desk in very good condition circ 1890 £1850
ID Code ac029a1185
Price £750 €840.53 $987.68
Boer war South Africa Medal with three battle honours. The Natal battle honour is very rare and gives this particular medal it's much sought after desirability
ID Code ac029a1175
Price £290 €325.00 $381.90
Fine quality arts and crafts bureau bookcase in honey oak with leaded glass doors and original handles
ID Code ac029a1174
Price £650 €728.46 $855.99
arts and crafts bureau bookcase
snuff box with cabochon in center mid 19th century
ID Code ac029a1169
Price £80 €89.66 $105.35
laquered snuff box with stork inlaid late 19th c
ID Code ac029a1168
Price £90 €100.86 $118.52
Chinese pottery mudman figure 20th century
ID Code ac029a1165
Price £25 €28.02 $32.92
Ivory letter opener early 20th century
ID Code ac029a1162
Price £28 €31.38 $36.87
Okimono Late 19th century
ID Code ac029a1158
Price £420 €470.69 $553.10
ivory flower - Late 19th century
ID Code ac029a1157
Price £75 €84.05 $98.77
Page :
Previous
1
2
3
4
5
6
7
8
9
10
11
12
Next
© Aberdeen Antique Centre, 2017