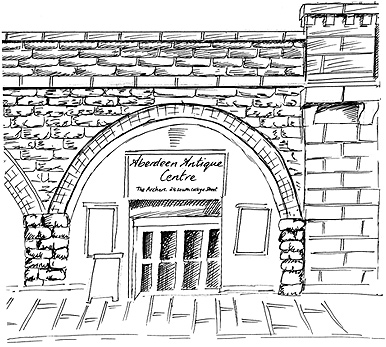 Aberdeen Antique Centre
The Arches, 24 South College Street
Aberdeen, AB11 6JX, Scotland
Telephone : 07801 441834
Web : www.AberdeenAntiqueCentre.com
Email : sales@AberdeenAntiqueCentre.com
The centre is currently operating ONLINE only. Please make all enquiries via phone or email.


View All
For Sale Items,
Page : Previous123456789101112Next
Total : 137
1930 Queen Ann style bureau refinished in a lovely Farrow & Ball modern colour. It's a lovely piece of quality furniture for the modern home.
ID Code ac029a1228
Price £475.00 €520.32 $615.22
Good Quality Victorian Pedestal desk in mahogany and of small proportions to fit the majority of studies or home offices In very good condition including the dark green leather skiver. Circ 1890
ID Code ac029a1214
Price £450 €492.93 $582.84
Ships Binnacle by Lilley & Reynolds Excellent condition and hard to find. Would make a fantastic focal point in a shipping company foyer or in the entrance hall of a ships captain
ID Code ac029a1209
POA to serious enquiries
Victorian Ivory silver plated card case in very good servicable.condition. The ideal gift for the executive who wants the best. Circ 1880- 1900 £ 295
ID Code ac029a1204
Price £295 €323.14 $382.08
Victorian Burr Walnut Jewellery Box with Tunbridge and Mother of Pearl inlay Lined internals and fitted removable tray.
ID Code ac029a1196
Price £325 €356.01 $420.94
Japanese armour neck shield circ 1700 with signature
ID Code ac029a1195
Price £375 €410.78 $485.70
Victorian Mahogany Cylinder Desk in very good condition circ 1890 £1850
ID Code ac029a1185
Price £750 €821.55 $971.40
Boer war South Africa Medal with three battle honours. The Natal battle honour is very rare and gives this particular medal it's much sought after desirability
ID Code ac029a1175
Price £290 €317.67 $375.61
Fine quality arts and crafts bureau bookcase in honey oak with leaded glass doors and original handles
ID Code ac029a1174
Price £650 €712.01 $841.88
arts and crafts bureau bookcase
snuff box with cabochon in center mid 19th century
ID Code ac029a1169
Price £80 €87.63 $103.62
laquered snuff box with stork inlaid late 19th c
ID Code ac029a1168
Price £90 €98.59 $116.57
Chinese pottery mudman figure 20th century
ID Code ac029a1165
Price £25 €27.39 $32.38
Page :
Previous
1
2
3
4
5
6
7
8
9
10
11
12
Next
© Aberdeen Antique Centre, 2020