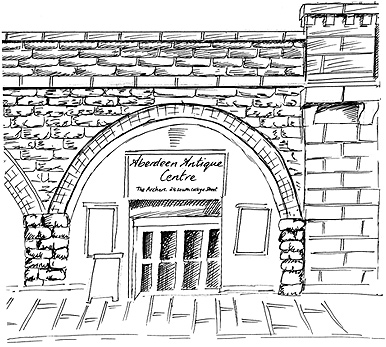 Aberdeen Antique Centre
The Arches, 24 South College Street
Aberdeen, AB11 6JX, Scotland
Telephone : 07801 441834
Web : www.AberdeenAntiqueCentre.com
Email : sales@AberdeenAntiqueCentre.com
The centre is currently operating ONLINE only. Please make all enquiries via phone or email.


Furniture, Chairs
Sold Items,
Page : Previous121314151617181920212223242526Next
Total : 329
Superb victorian figured mahogany loo table above a carved and turned pedestal base on quadraped supports with original castors.
ID Code ac029a240
top 48'' x 61'', height 31''
sold
Victorian mahogany pedestal breakfast table with round top on a cabriole leg on castors.
ID Code ac029a239
Diameter 48'', height 31''
SOLD
Large drop leaf table supported on tapering legs meassuring 23'' and 68'' when opened.
ID Code ac029a238
width 23'' opened 68'', height 29'', depth 46''
SOLD
Mahogany washstand on turned legs with two dammy drawers on the sides and one short drawer in the middle. It has two basins (not matching) and a jug.
ID Code ac029a237
width 41'', height 35'', depth 17''
SOLD
An outstanding Arts Nouveau ladies desk on castors. Contains a filing drawer which is quite unusual and two short drawers, all with decorative brass escutcheons. The surface of the desk is damaged with a split in the wood but this is still an atractive piece.
ID Code ac029a236
width 36'', height 31'', depth 23''
SOLD
Very comfortable 1920's sofa.
ID Code ac029a235
width 78'', height 32'', depth 37''
SOLD
Beautiful georgian mahogany chest of drawers, circa 1810.
ID Code ac029a234
width 44'', height 39.5'', depth 23''
SOLD
Sofa and 2 arm chairs, Wyllie & lockhead.
ID Code ac029a233
SOLD
Light oak Arts & Crafts dressing table with towel rail attached at side.
ID Code ac029a232
42'' wide, 21'' deep, 62.5'' tall.
SOLD
Light oak chest of drawers.
ID Code ac029a231
41'' wide, 20.5'' deep, 39.5'' tall
SOLD
18th Century Oak Coffer having a moulded penelled top over a finely carved frieze and panelled front, panelled ends standing on stile feet. Excellent colour and condition. Ideal for storage also for investment. Circa 1780.
ID Code ac029a229
depth 17'', width 40.5'', height 25''
SOLD
Victorian flame mahogany bow fronted chest of drawers of good proportions for the modern home with ivory key escutcions and original blue paper drawer linings. Standing on bun style feet and showing a lovely original patina and colour. SMA
ID Code ac029a228
width 43.5'', depth 22'', height 44.5''
sold
Page :
Previous
12
13
14
15
16
17
18
19
20
21
22
23
24
25
26
Next
© Aberdeen Antique Centre, 2018