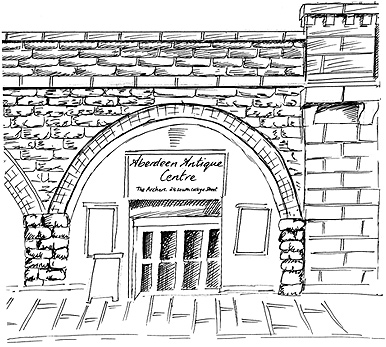 Aberdeen Antique Centre
The Arches, 24 South College Street
Aberdeen, AB11 6JX, Scotland
Telephone : 07801 441834
Web : www.AberdeenAntiqueCentre.com
Email : sales@AberdeenAntiqueCentre.com
The centre is currently operating ONLINE only. Please make all enquiries via phone or email.


Clocks And Timepieces
Sold Items,
Total : 41
Victorian Mahogany Inlaid Mantel Clock with westminster chime + strike silent, circa 1890.
ID Code ac029a387
Width 12'', depth 7.5'', height 17''
SOLD
Longcase Clock by Geo Dobbie of Falkirk. Oak case, 8 day movement, silvered dial.
ID Code ac029a327
width 18'', depth 9.5'', height 83''
sold
John Hamilton Glasgow Longcase Clock, circa 1780. 8 day movement - 12 months warranty. Contains brass and silver dial with Roman and Arabic numerals and inner second dial.
ID Code ac029a326
width 20'', height 88'', depth 10''
SOLD
Grandfather Clock by George Reid of Hawick, c.1860. This clock has never been restored and it is in a great condition. Full working order.
ID Code ac029a283
SOLD
Regency Grandfather Clock by Thos Stewart of Auchterarder. This clock has painted dial and 8 day movement in full working order. The mahogany case is in good condition as well. This wonderful piece has never been restored.
ID Code ac029a282
width 47cm, height 220cm, depth 23cm
SOLD
18ct Gold plated swiss ladies watch by Cartier.
ID Code ac029a252
SOLD
Mantel clock by James Berry of Aberdeen. Twin fusee repeater movement with anchor escapement striking on a bell. 8'' silvered dial with Roman numerals and signature in figured mahogany case, arched top applied with florette & foliage, pierced brass sound frets, bulbous base, square plinth + bun feet. James Berry worked at 59 Marischal St, Aberdeen between 1866-1878 and learned his clockmaking skills in London, which can be seen in the fine quality movement of this clock. circa 1870.
ID Code ac029a230
12'' wide, 17.5'' tall, 7'' deep
SOLD
Lady's Omega 9ct Gold Watch 1950's. Not working SMA
ID Code ac029a217
Price £275 €299.64 $351.86
Victorian lady's 18ct rose gold watch circa 1900, working.
ID Code ac029a196
Case Diameter 1'' / 2.5cm Watchband 8'' / 21cm
SOLD
Victorian mahogany bracket clock by Baurer Germany, circa 1860. Original bracket, double fusee with bell pull repeat. 12 months warranty, key included. SMA
ID Code ac029a168
Width 12''/31cm Height 17''/43cm
Price £1800 €1961.28 $2303.10
Beautiful german oak clock, early 20th century. The clock is in full working order.
ID Code ac029a144
Width 31cm/12'' Height 50cm/20''
SOLD
Victorian Mantelpiece Clock.
ID Code ac029a116
13'' x 9.5' 'x 5.5''
SOLD
Page :
Previous
1
2
3
4
Next
© Aberdeen Antique Centre, 2020