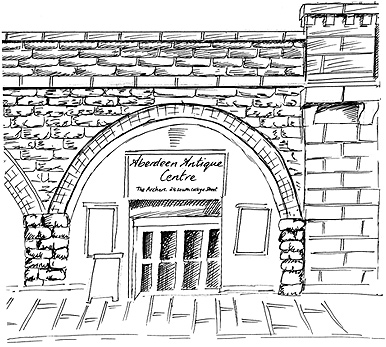 Aberdeen Antique Centre
The Arches, 24 South College Street
Aberdeen, AB11 6JX, Scotland
Telephone : 07801 441834
Web : www.AberdeenAntiqueCentre.com
Email : sales@AberdeenAntiqueCentre.com
The centre is currently operating ONLINE only. Please make all enquiries via phone or email.


Furniture, Chairs
Sold Items,
Page : Previous123456789101112131415Next
Total : 329
Fine Pair Of Edwardian Bedroom Chairs with box wood stringing and Bergere seats.
ID Code ac029a948
Price £175 €200.25 $233.33
A Small Pine Bookcase
ID Code ac029a945
Price £90 €102.99 $120.00
1930's Pine And Marble Topped Wash Stand.
ID Code ac029a943
Price £295 €337.57 $393.32
A lovely example of an An Art Deco Hall Stand.
ID Code ac029a939
Price £350 €400.51 $466.66
A stunning very long dining table in wonderful condition.
ID Code ac029a934
To be added or call.
POA
Nice Mahogany Occasional Table.
ID Code ac029a933
Price £145 €165.92 $193.33
Early 1900's Walnut Cocktail Cabinet,in lovely condition.
ID Code ac029a931
Price £375 €429.11 $499.99
beautiful victorian button high back sofa , with scroll work to the back and arm rests in mahogany
ID Code ac029a928
length 186cm , depth 84cm , hieght 104
Price £1250 €1430.38 $1666.63
victorian flame mahogany chiffonier , small apex gallery to top over two door cupboard underneath in flamed mahogany
ID Code ac029a927
hieght 150cm , depth 48cm , length 110
Price £750 €858.23 $999.98
Price to be added.
beautifully carved victorian buffet cabinet,this item is made of solid oak and is a heavy solid pieace which has been built to last there is one cupboard to the top section which sits on a plynth , undeneath is a linen drawer and then a larger cupboard to the base , this item splits into two sections for easy transportation
ID Code ac029a926
hieght 160cm , depth 72cm , length 80 cm
Price £575 €657.97 $766.65
King Charles II chair .Hand crafted period piece with ornate hand carvings with original cane upholstery.
ID Code ac029a898
Price £550 €629.37 $733.32
Please call for details
18th Century oak settle with fire back panels and lozenge carving.Planked seat and turned legs and arms with fitted seat cusion.
ID Code ac029a897
Price £1075 €1230.12 $1433.30
Please call for details
Page :
Previous
1
2
3
4
5
6
7
8
9
10
11
12
13
14
15
Next
© Aberdeen Antique Centre, 2018