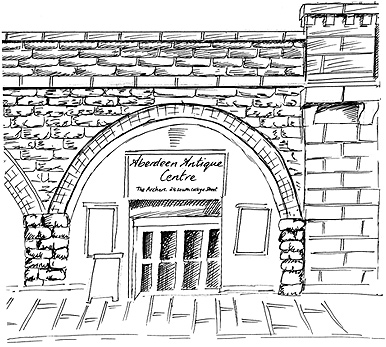 Aberdeen Antique Centre
The Arches, 24 South College Street
Aberdeen, AB11 6JX, Scotland
Telephone : 07801 441834
Web : www.AberdeenAntiqueCentre.com
Email : sales@AberdeenAntiqueCentre.com
The centre is currently operating ONLINE only. Please make all enquiries via phone or email.


Furniture, Chairs
Sold Items,
Page : Previous123456789101112131415Next
Total : 329
Edwardian roll top writing desk dating to 1910c. Nice rich colour. The tambour front slides back to reveal a writing surface complete with fully fitted interior with pigeon holes and small drawers. Standing on twin pedestals each with a pull out writing surface complete with original handles and original lock and key.
ID Code ac029a896
Price £775 €874.05 $1027.34
A beautiful, very large Edwardian mahogany triple wardrobe
ID Code ac029a859
Price £1050 €1184.19 $1391.88
Beautifully carved oak sideboard with fantastic detailing to drawers and doors
ID Code ac029a847
Price £750 €845.85 $994.20
Glazed Fronted Corner Cabinet c1880
ID Code ac029a832
Price £550 €620.29 $729.08
Superb Victorian Brass Double Bed
ID Code ac029a831
Price £1850 €2086.43 $2452.36
A beautiful Victorian high-backed sofa, with mahogany carving and ceramic castors. SMA.
ID Code ac029a813
Length - 70" Depth - 32" Height - 42"
Price £1550 €1748.09 $2054.68
Lovely oak hallstand with unusual pegs, a drawer and mirror SMA
ID Code ac029a738
Price £245 €276.31 $324.77
Victorian decorative, glass fronted flame mahogany corner cabinet. C1890 SMA
ID Code ac029a724
Price £550 €620.29 $729.08
Lovely late Victorian pitch pine storage cupboard with fantastic original glass handles ALL
ID Code ac029a673
Price £485 €546.98 $642.92
Beautiful small light oak Arts and Crafts Bureau. SMA
ID Code ac029a603
Price £525 €592.10 $695.94
Wonderful mahogany display cabinet/bookcase with beautiful piecrust detail. SMA
ID Code ac029a597
Price £475 €535.71 $629.66
Late 18th Century Oak Mule Chest with carved front panels and two drawers. Very useful and attractive peice. In very good condition. Perfect for storing linen and the like. SMA
ID Code ac029a560
28 1/2 inches high. 22 3/4 inches deep. 35 inches wide.
Price £710 €800.74 $941.18
Page :
Previous
1
2
3
4
5
6
7
8
9
10
11
12
13
14
15
Next
© Aberdeen Antique Centre, 2018