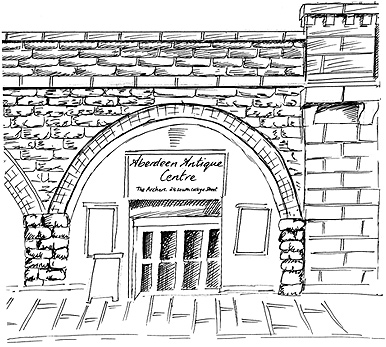 Aberdeen Antique Centre
The Arches, 24 South College Street
Aberdeen, AB11 6JX, Scotland
Telephone : 07801 441834
Web : www.AberdeenAntiqueCentre.com
Email : sales@AberdeenAntiqueCentre.com
The centre is currently operating ONLINE only. Please make all enquiries via phone or email.


Books
Sold Items,
Total : 21
Stalin on Lenin book published 1939. this was originaly wrtten on the occasion of Lenin's fiftieth Birthday.
ID Code ac029a1231
Price £125 €138.78 $155.83
The history of Freemasonry
ID Code ac029a975
POA
J. Pendleton's "Our Railways Their Origin, Development, Incident and Romance", Cassell and Company, LTD (London) Published in 1896 ARC
ID Code ac029a693
Price £70 €77.71 $87.26
John Spotswood (1565 - 1639, Archbishop of St. Andrews, Privy Counsellor to King Charles I) "The History of the Church and State of Scotland, Beginning the Year of Our Lord 203, and Continued to the End of the Reign of King James VI" in seven books. R Royston (London) 1677, fourth edition. Full calf binding, has been rebacked with strengthening to hinges GB
ID Code ac029a677
Price £225 €249.80 $280.49
sold
Gordon Seaton's "The Cairngorm Hills of Scotland". Cassell & Co Ltd (London) 1925. 27 Lovely illustrations, a blue cloth cover with gilt detailing. The spine is faded but otherwise it's in very good condition. GB
ID Code ac029a676
Price £35 €38.86 $43.63
The Life of Robert Burns with Criticisms of His Writings by James Currie c. 1838 (SMA)
ID Code ac029a623
sold
The History of Freemasonry volumes 1 and 2 by Robert Freke Gould c. 1886 (SMA)
ID Code ac029a622
sold
Very rare copy of "The Aberdeen Golfers Records & Reminiscences by Charles Smith". Published privately for the Author in London in 1899 in 150 copies only.
ID Code ac029a345
SOLD
First edition of "Harry Potter and The Chamber of Secrets" by J. K. Rowling, signed by the author. Very rare.
ID Code ac029a344
SOLD
Very rare book "The Broons"
ID Code ac029a343
SOLD
4th "Oor Wullie" from 1951 in very good condition.
ID Code ac029a342
sold
"Second Foundation" - a science-fiction novel by Isaac Asimov. It is first US issue from 1953. Published by Gnome Press, Inc in New York.
ID Code ac029a341
SOLD
Page :
1
2
Next
© Aberdeen Antique Centre, 2020