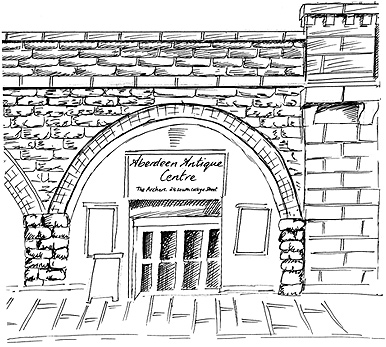 Aberdeen Antique Centre
The Arches, 24 South College Street
Aberdeen, AB11 6JX, Scotland
Telephone : 07801 441834
Web : www.AberdeenAntiqueCentre.com
Email : sales@AberdeenAntiqueCentre.com
The centre is currently operating ONLINE only. Please make all enquiries via phone or email.


Bronzes
Sold Items,
Total : 10
Bronze Buddha – Prayer Limited edition bronze sculpture This is No.2 of 25. Buddha 'prayer' is the first of 3 Buddhas in this 18"/46cm size series.
ID Code ac029a1054
18"/46cms
POA
Decorative "Vendange" figure, Por J Barthoz. Signed at the base "Guilenua". PS
ID Code ac029a446
sold
Attractive Figure of a Polo Player mid shot
ID Code ac029a424
Base approx 29 x 12 cm Height at tallest approx 30cm
sold
Striking pair of Spelter Horse Figures
ID Code ac029a423
Base approx 33 x 17cm Height approx 44cm
sold
Figure of golfer about to take a swing, made of bronze SMA
ID Code ac029a422
Approx 32cm (12.5") at tallest
Price £125 €138.78 $155.83
"Louise Colet as Sappho" signed Pradier (Jean-Jacques 1790-1852) cast by Susse Freres.
ID Code ac029a254
width 11'', height 9'', depth 5''
Price £870 €965.87 $1084.54
Buddhist temple monks Qing Dynasty.
ID Code ac029a137
height 120cm/47'' width 35cm/13.5''
SOLD
Limited edition bronze on clay sculpture by Spanish Artist J M Belsa
ID Code ac029a060
12cm deep 20cm wide 29.5 cm high
SOLD
Bronze dog signed P.J.Mene.
ID Code ac029a037
SOLD
Bronze Battling Stags
ID Code ac029a070
21cm high 38cm wide
SOLD
© Aberdeen Antique Centre, 2020